Police seek new charge against Deion Sanders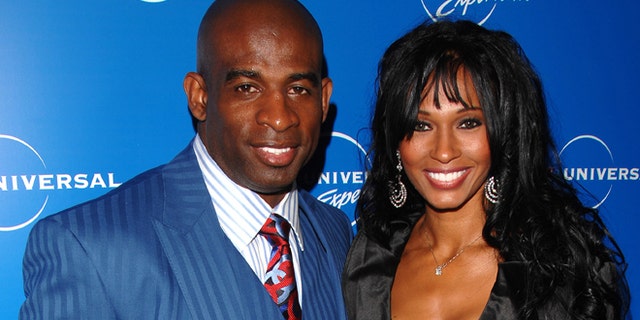 McKINNEY, Texas – Police are seeking a new criminal charge against Deion Sanders in the case related to a scuffle last month between the Pro Football Hall of Famer and his wife.
Investigators with the Police Department in Sanders' hometown of Prosper, north of Dallas, have asked the Collin County District Attorney's Office to review their request for a criminal mischief charge against the ex-NFL star. The charge is a misdemeanor. A spokeswoman for the district attorney did not return a phone message.
The criminal complaint that police filed with prosecutors says their recommendation for the charge results from the department's ongoing investigation of an April 23 scuffle between Deion and Pilar Sanders at their palatial Prosper home.
Both Deion and Pilar Sanders already face simple assault charges, also misdemeanors.
A Prosper police officer who responded to the disturbance call at the Sanders home along with another officer testified Thursday during a court hearing in the divorce case. Officer John Gardner said a cellphone belonging to a friend of Pilar Sanders was found smashed outside the house and that Deion Sanders admitted to throwing the phone.
Gardner interviewed Sanders immediately after the incident. The officer testified that the ex-NFL star told him that he was in a kitchen area attached to his bedroom in his end of the house when Pilar Sanders began to kick at the kitchen door. He told the officer that his wife began slapping him, so he grabbed her by the waist and carried her from the bedroom.
He reported that when he got outside the bedroom, his wife and her friend Dee Boswell began to hit him, Gardner testified. Boswell held a cellphone up to his face, but Sanders said he knocked the phone away, Gardner said. The phone was later found outside, with its memory card nearby.
"He said, `I don't know. I just threw it out here.' And that's where I found it at," Gardner testified.
A crime lab test of the memory card came back with no video on it.
Pilar Sanders was arrested later that day after being taken to an area hospital. She spent the night in Collin County jail and was released the next day.
Deion Sanders, meanwhile, posted on Twitter that he was filing charges against his wife and sent a photo of him and his two sons filling out police reports. Gardner said he watched the trio fill out police reports but didn't know about the photo. Sanders would later delete the photo.
Asked how Pilar Sanders might have injured her lip, as it appeared in her mug shot, Gardner said her injury looked like she might have bitten her own lip. Gardner and the other police officer who responded to the Sanders home, Sgt. Bryan Golden, both said they didn't see any signs of an attack on Pilar Sanders, who told police she entered her husband's bedroom because she hadn't seen one of their sons for three days.
Earlier Thursday, Pilar Sanders' attorney, Larry Friedman, said her arrest after allegations that she attacked the former NFL cornerback was "a complete setup." The hearing was part of the couple's battle over custody of their three children and who will keep their $5.7 million home.
Deion Sanders filed for divorce in December, but the pair still shared the home until Pilar Sanders' arrest after the scuffle. Police later charged Deion Sanders but said his charge didn't warrant an arrest.
Pete Schulte, another attorney for Pilar Sanders, grilled the officers on why they didn't charge Sanders right away with criminal mischief or tampering with evidence when they spotted the destroyed phone.
"At the time, it was not something we were looking to make an arrest for," Golden testified.
Friedman said the former football star repeatedly called Prosper police until they arrested his wife. The attorney also said Deion Sanders violated a gag order in the case by doing TV interviews and posting updates on Twitter.
"It's never about anybody but Deion Sanders," Friedman said.
Rick Robertson, Deion Sanders' attorney, said Pilar Sanders has failed to take their children to school on time and has "been physically abusive" to them.
"His children are one of the main reasons he's here," Robertson said of his client. "His role of father exceeds the role of most fathers."
Jeffery Shore, an attorney for the children, ages 12, 10 and 8, said they are struggling in school and need counseling.
"They live in a combat zone," Shore said.
The hearing was expected to continue Friday and into next week.