Police file assault charges against dismissed Utah CB Hatfield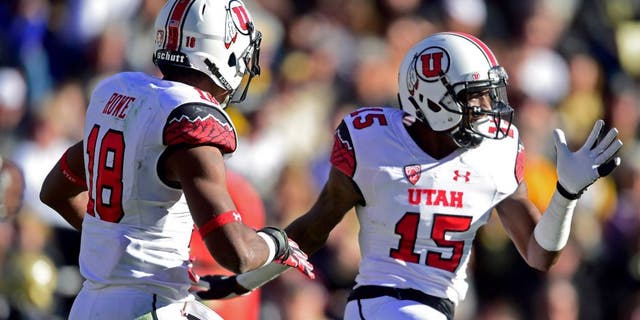 Utah cornerback Dominique Hatfield has been charged with misdemeanor assault in a fight during a party last month, his second recent run-in with police.
Salt Lake City detective Cody Lougy says neither a summons to appear nor a warrant has been issued but the investigation is ongoing.
A man told police he was attacked by four or five people during a party on July 5. Lougy says the man identified Hatfield and said other Utah athletes were at the party. The man was treated at the hospital for a cut on the nose, a bump on the head and bruises to the face and body.
''I'm disappointed that they were filed,'' said Greg Skordas, Hatfield's lawyer. ''We intend to address them immediately. I intend to get this case in front of a jury as soon as I can. I'm confident it's going to go the same way as the last case that was brought against him.''
Skoras said Hatfield contends he did not assault anyone, though he declined to say whether or not the ex-player was involved in the fight.
Hatfield was dismissed from the team last month after he was charged in a separate case with aggravated robbery and theft. Prosecutors dropped charges last week, but say they could refile altered charges.
Utah spokesman Liz Abel said Monday, ''Dominique Hatfield's dismissal from our team remains in effect and certain conditions would still need to be met for him to be considered for reinstatement in the future.''
New evidence suggested Hatfield was not the person who robbed a man at knifepoint who planned to buy an Xbox game console, Salt Lake District Attorney chief deputy Blake Nakamura said last week. But Nakamura said they still suspect Hatfield may have been aware of the crime or involved. Surveillance footage shows him in the area of the robbery, he said.
Nakamura said they also still believe Hatfield tried to sell stolen cellphones to the same person at the same car wash on June 30. The 20-year-old Hatfield was arrested that day and charged with aggravated robbery and theft.
Hatfield started 10 games last season and finished with 38 tackles, one interception and nine pass breakups. He was expected to remain a starter in 2015.
Coach Kyle Whittingham released a statement last week that said he was ''relieved'' Hatfield had been exonerated of the robbery and theft charges, but that ''does not necessarily impact'' the disciplinary actions taken for his violation of team rules. The coach added there was the ''possibility of future reinstatement'' if he meets ''certain expectations.''
Skoras said Hatfield is in discussions with the university about ''what his options are.''
''This is obviously a huge setback in that respect,'' Skoras said. ''Unfortunately, the timing of it is problematic in terms of him getting back on the field.
''He likes the people in Utah and he wants to get, at least, back as a student if not a student-athlete.''