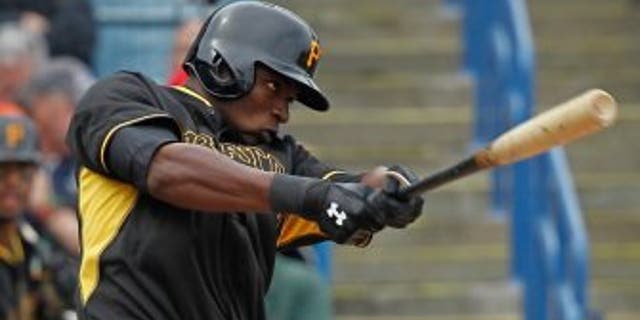 Judging by e-mails and tweets, a lot of you have been waiting for the Pirates to call up OF prospect Gregory Polanco (.351 BA, 6 HR, 14 SB at Triple A), and there were rumors that he'd be in Pittsburgh tonight. However, the Pirates denied those rumors, and Pittsburgh Tribune-Review columnist Dejan Kovacevic said in this interview that Polanco probably won't be up until next week. If you want to grab Polanco (owned in 21.2 percent of FOXSports.com leagues) now to beat the rush, go right ahead. Just don't expect to see him this weekend.
On to the rest of the news:
Reminder: Andrew Cashner is listed as the Padres' probable starter for Saturday. Cashner has been on the DL since May 13 with elbow inflammation. Matt Cain returns for the Giants tonight, too.
Streaming starters: Mike Leake had a rough outing on Thursday, so we're down to 40-25 for the season. The weekend picks are Brandon McCarthy (1.8 percent owned) tonight against the Braves; the erratic Danny Duffy (4.1 percent owned) versus the Yankees on Saturday; and our pal Jose Quintana (14.4 percent owned) at Anaheim on Sunday. I like Duffy the least of the trio, in case you're wondering. That pick is more of a bet against the Yankees.
Reds SP Mat Latos left his latest rehab start with a calf cramp, but he still might be activated early next week.
I don't know much about the guys taken in last night's MLB Draft, but will pass along info as I learn.
Not a bad return to the mound last night for Royals SP Yordano Ventura. Did you know that he's slipped below the 50 percent ownership threshold around here?
Twins OF Oswaldo Arcia - who hit another home run on Thursday - left the game with a sprained ankle and is day to day.
The Twins started Danny Santana over Aaron Hicks again last night. As expected, Hicks' decision to stop switch hitting seems to be affecting his playing time. Deep leaguers need to remember that Santana is SS-eligible. He's not a bad hitter, and he has some speed.
The Blue Jays are hoping that 1B Edwin Encarnacion (back) will be back in the lineup tonight. The same goes for the Angels and OF Mike Trout.
Cardinals 2B Kolten Wong left Thursday's game after aggravating his sore left shoulder. He's day to day.
See you back here Monday morning.