Playoff Preview: Can Hawks solve LeBron, Cavs to return to East finals?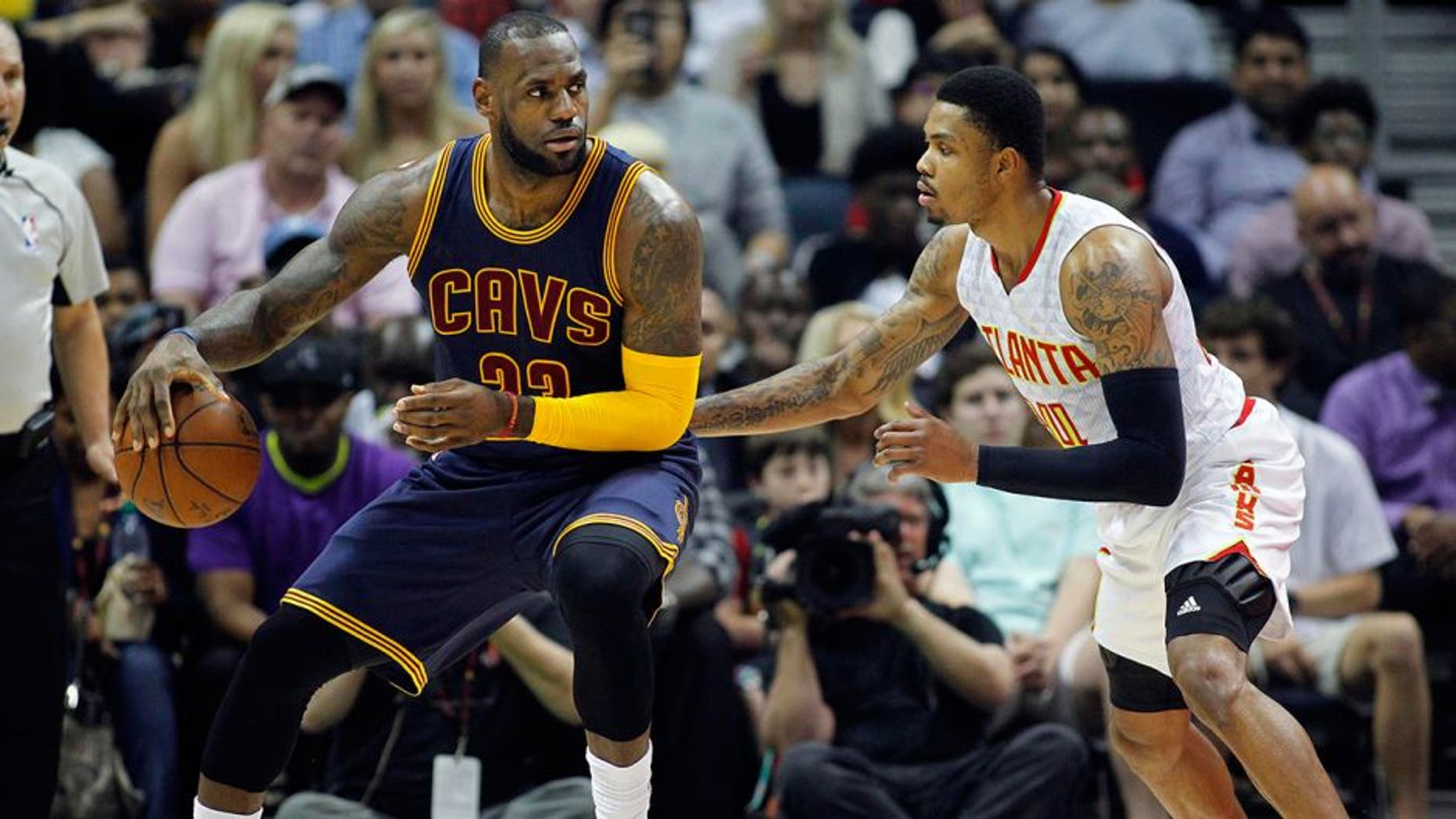 The Hawks exorcised some long-standing playoff demons in Boston, winning a playoff series there for the first time since 1958 -- but now some more recent postseason specters sit in front of Atlanta in the second round.
The Cavaliers swept the Hawks in last year's Eastern Conference Finals, with LeBron James doing the brunt of the damage in averaging 30.3 points, 11 rebounds and 9.3 assists over those four games. They had further problems with James and Co. this season, losing all three meetings, but it wasn't just the four-time MVP that did the damage as Kevin Love scored 25 on Nov. 21 and Kyrie Irving led with 35 on April 11.
Atlanta may be better defensively, and coming off one of its most impressive performances in that regard all season. It averaged 8.6 blocks per game vs. Boston and in the Game 2 victory, limited the Celtics to a mere seven points in the opening quarter, the fewest in playoff history since the adoption of the shot clock in 1954
Can the Hawks claim the rematch and return to the East finals? Here are the players to watch as the series starts Monday in Cleveland.
GAME SCHEDULE
GAME 1: Hawks at Cavaliers, Monday, May 2 at 7 p.m.
GAME 2: Hawks at Cavaliers, Wednesday, May 4 at 8 p.m.
GAME 3: Cavaliers at Hawks, Friday, May 6 at 7 p.m.
GAME 4: Cavaliers at Hawks, Sunday, May 8 at 3:30 p.m.
GAME 5: Hawks at Cavaliers, Tuesday, May 10, TBD*
GAME 6: Cavaliers at Hawks, Thursday, May 12, TBD*
GAME 7: Hawks at Cavaliers, Sunday, May 15, TBD*
*If necessary
**Hawks LIVE postgame will follow each game on FOX Sports Southeast

PLAYERS TO WATCH
Paul Millsap, F Hawks
The lynchpin of a defense that limited opponents to 99.2 points per game in the regular season -- sixth-best -- Millsap led the league with 6.0 defensive win shares and was in the top 10 in steals with a career-high 147.
The last time the Hawks faced the Cavs, a 109-94 loss on April 11, was one of Millsap's least effective games of the season. He scored nine points on 3 of 14 shooting and had a minus-10 plus/minus. He may not be the prime choice to guard James -- that will likely fall on the player who is the X-factor in this series -- and the Cavaliers' defensive approach may be to put the series in the hands of point guard Jeff Teague, but Millsap is arguably the most important piece of Mike Budenholzer's offense.
Through the first three games against Boston, Millsap had just one game of more than 33.3 percent shooting, but over the last three -- which included the 45-point outburst in Game 4 -- he was never worse than 40.0 from the field. He may be heating up at the right time, and with his defense already stifling, he'll be key if the Hawks are going to end an 0-7 skid vs. the Cavs.
LeBron James, F Cavaliers
He simply gets up for matchups against the Hawks. He averaged 27.3 points in the regular season, which is his second-highest output against any East playoff team -- trailing only the Pacers (28.7) and James' plus-14 plus/minus tops his effort vs. the conference's postseason field.
The Hawks believe they are an improved defensive team after last season, and while they managed to bottle up Isaiah Thomas in dispatching Boston, and daring anyone else to beat them, that approach may not work vs. the Cavs. It's only confounded by James' ability to power through any added defensive pressure, allowing him to find open men. The Hawks tried that game plan a year ago, and it paved the way for J.R. Smith to take advantage.
Atlanta's biggest weapon against James is to get under his skin, something that this series' X-factor has a tendency to do.
X-FACTOR
Kent Bazemore, SF Hawks
During last year's East finals, Bazemore was called for some overly aggressive defense on LeBron and pushed James, resulting in some words being exchanged between the two, and this year the Hawks small forward took a scary spill after a collision between the two. There's no love lost there, as Bazemore has taken shots at James over the years on Twitter and it's been amplified by their places as Under Armour/Nike spokesmen.
The BazeGaze may be his calling, card, but Bazemore isn't afraid to go toe-to-toe with LeBron and with 3.8 DWS this season -- third among all Hawks behind Millsap and Al Horford (4.5) and 16th overall -- he's proven himself to be an elite defender.
The ability of Teague to exploit the defensively-challenged Irving (1.7 DWS) will be key, as will Kyle Korver, who played just two games vs. the Cavs last postseason before being injured. But Bazemore is a wing defender that has been among the league's best and already has show the ability to get to James. Over a series, and in a season when he's shown strides across the board with career highs in minutes (27.8), points (11.6) rebounds (5.1), assists (2.3) and steals (1.3), Bazemore will loom large.
PREDICTION
CAVS IN SIX GAMES. This Hawks team is much stronger defensively than the one that was outscored by almost 12 points per game in last year's playoffs. However, the trio of Irving (27.9 efficiency rating), James (23.5) and Love (21.5) are playing at an extremely high level. Atlanta won't be in line to be swept away this time, but the Cavaliers may still be too much for them.
Follow Cory McCartney on Twitter @coryjmccartney and Facebook. His book, 'Tales from the Atlanta Braves Dugout: A Collection of the Greatest Braves Stories Ever Told,' is out now, and 'The Heisman Trophy: The Story of an American Icon and Its Winners' will be released Nov. 1, 2016.