Players react to news of Lambert being named starting QB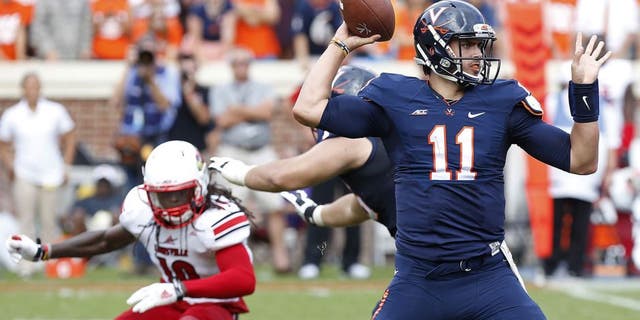 NEWYou can now listen to Fox News articles!
Coach Mark Richt ended the speculation and finally named the team's starting quarterback Monday. Richt publicly announced the decision just after telling his team. How did the players take it? They echoed similar statements their coach has been saying all camp.
"We just found out ourselves," offensive lineman John Theus said, according to Dawg Nation. "I'm happy for Greyson and all three guys have done a heck of a job."
The players seem to have confidence in all three players vying for the job and have faith that the team can succeed with any of them playing from under center, whether it's Lambert, Brice Ramsey or Faton Bauta.
"All of our quarterbacks are good quarterbacks," cornerback Malkom Parrish said. "I think that's just the guy that's best for the system for now."
"All three of those guys can play the game," outside linebacker Davin Bellamy said. "I'm excited to see him play Saturday."
Richt has said that all three could play this season and with games against Louisiana-Monroe and Vanderbilt to open the season, the team should have two easy contests before a game against SEC rival South Carolina. If they don't have an answer by then, the Bulldogs could be in for a season-long debate that could potentially divide the locker room heading into SEC play.
If Richt does mismanage the quarterback position this fall, the pressure is only going to increase in Athens if the Bulldogs fail to capture the East title for the third season in a row. Everyone appears on board with the decision for now, how long will that last?
(h/t Dawg Nation)