Players proud to don Dodger Blue for Vin Scully's final season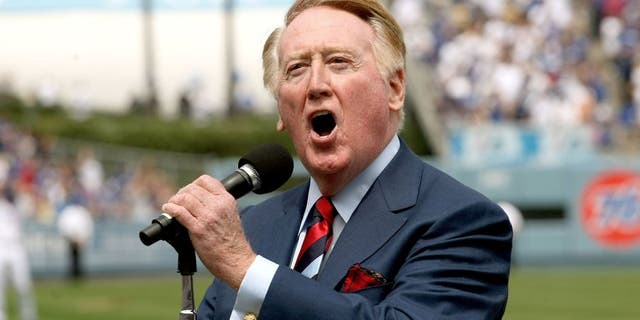 NEWYou can now listen to Fox News articles!
2016 will be a big year for Vin Scully, the Los Angeles Dodgers' broadcaster.
He's already announced it will be his final season at the microphone for the Dodgers, barring an unforeseen change of heart.
To celebrate Scully entering his 67th (and perhaps final) season, the Dodgers recently renamed Elysian Park Avenue (a road leading to Dodger Stadium) to Vin Scully Avenue. It's a fitting tribute for Scully, 88, especially heading into his last season.
At Dodgers' Fan Fest last weekend, several players were asked about their thoughts regarding Scully and how they felt about donning Dodger Blue for Scully's final year.
Pitcher Brandon McCarthy (making his way back from Tommy John surgery) put it eloquently after cracking a joke:
"I keep hoping he'll do that at the end of the year, say he'll give it one more year…be the first announcer at 120 years old. If it is the end, it's…again, I grew up around here, I grew up with Vin Scully, that's the voice of baseball for me and that's not just talk. To know that that's coming to an end is very sad but it's been a fantastic career; I can't imagine there's anybody that's anything but sad that he's leaving."

New lefty Scott Kazmir, meanwhile, smiled from ear-to-ear before explaining how excited he is to pitch in front of Vin at Dodger Stadium:
"I'm going to make sure my family and everyone pushes the 'Record' button so we can listen to that and have that as a memory. It's going to be awesome."
Outfielder Scott Van Slyke referred to a quote passed on by Orel Hershiser that put things in perspective:
"Yesterday, I think it was Eric Karros -- no, it was Orel Hershiser -- who said that when we look back on our career and have the video of something that we did during a game, Vin will be a part of that. To have Vin calling something that you cherish just makes it that much better."
And Infielder Enrique Hernandez suggested the Dodgers give Scully the proper send-off:
"Yeah, I mean…Vin Scully is…he deserves to get his Avenue now, it's going to be a special year for Vin and hopefully we can give him a World Series title."
As for whether Scully would be open to the thought of announcing any postseason games in 2016, he mentioned to the media at Fan Fest that, "maybe, because it will be the last year, I might to playoffs but I don't think I'd do the World Series."
He did say, though, that it'd be 'unfair' if he were to supplant Charlie Steiner and Rick Monday on Dodgers radio for any postseason games...so this will be something to watch as the season unfolds and Scully's plans for the end of his year start taking shape.