PLAYERS OF THE WEEK: Hali, Houston helping unbeaten Chiefs rewrite record books in sacks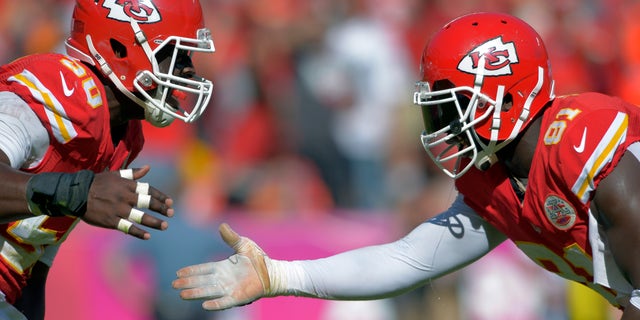 KANSAS CITY, Mo. – The past couple weeks, Tamba Hali has noticed a difference in the way opposing defenses have dealt with the Pro Bowl pass rusher of the Kansas City Chiefs: They aren't double-teaming him.
In fact, they're not even chipping him with a fullback or running back, or sending a tight end to help block. It's almost as if they're giving him carte blanche to hit the quarterback, so absurd is the idea of going one on one with him with a woebegone offensive tackle.
It's not a slight to Hali, though. It's a credit to Justin Houston.
In the quintessential case of complementary football, Hali and Houston have grown into one of the most feared pass rushing duos in the NFL. They are the biggest reason the unbeaten Chiefs are on their way to breaking the league's record for sacks in a single season.
"It's kind of hard to say, 'We have to block that guy,'" said Texans coach Gary Kubiak, who watched them combine for three sacks last Sunday. "That's what is so impressive."
Houston is tied for second in the NFL with 10 sacks heading into this Sunday's game against Cleveland, trailing only the 11½ by the Colts' Robert Mathis. Hali is fourth in the league at nine sacks, including five in the past two weeks.
That's when opponents have focused on Houston and forgotten about the other guy.
"We're both good players," said Hali, who already has 71½ sacks, and needs two more to pass Art Still for third on the franchise career list. "You have to pick who you want to block and who you want to double, because we're both eager to get to the backfield and cause problems."
Often, they arrive in the backfield at the same time.
That was the case last Sunday against the Texans, when the outcome hung in the balance in the fourth quarter. Hali and Houston converged on quarterback Case Keenum, making his first NFL start, and hit him so hard the ball popped loose for a fumble.
In fact, all of Hali's 2½ sacks last week came in the fourth quarter. The last also caused a fumble that was recovered by Derrick Johnson with 1:34 left. The Chiefs simply kneeled on the ball from there to seal a 17-16 victory and their 7-0 start.
"The way our coaches are calling the defense, it's going to create problems and matchups," Hali said. "It's definitely freed me up and allowed me to make plays, and it's going to go back the other way, and that's going to free Justin up. He'll have to do what he does."
Turns out that what Houston does is quite similar to what Hali does.
The third-year linebacker had three sacks in an opening win over Jacksonville, and then showed himself off with 4½ sacks in a win over Philadelphia. He's on pace to have 23 on the season, which would break Hall of Famer Derrick Thomas' franchise record of 20 set in 1990.
That's not the only record the tandem is chasing, either.
They have helped the Chiefs rack up 35 sacks through their first seven games, putting them on pace for 80 by the end of the year. That would break the record of 72 set by the Bears in 1984, two years after the sack became an official stat.
"I think it's a team effort," Houston explained. "When you've got guys covering guys the whole time, and the big guys inside pushing the pocket, and Tamba rushing from the other side, it's very easy to make plays."
That may be downplaying things just a bit. Hali and Houston are on pace to finish the year with 45 sacks. To put that in context, Kansas City was among 28 TEAMS in the NFL last season that didn't have that many — the Chiefs had just 27 of them.
And just five years ago, Kansas City set an NFL record for fewest sacks with 10.
"You don't as a coach ever sit down and say, 'Hey, I want to have this many sacks or that,'" Chiefs defensive coordinator Bob Sutton said. "You're trying to find a way to win a game."
Well, sacks certainly help with that. The Chiefs are two wins shy of matching the 2003 team for the best start in franchise history, a turnaround that's all the more impressive given Kansas City fired its coach and general manager after winning just two games a year ago.
Hali and Houston have flourished under new coach Andy Reid's staff, though, and are now being compared to some of the best pass-rushing tandems of the past two decades: Jason Taylor and Trace Armstrong in Miami, or Von Miller and Elvis Dumervil in Denver.
Naturally, they're also being compared to one of the best duos in Chiefs history, Thomas and Neil Smith, who terrorized quarterbacks throughout the 1990s.
"It's seven games in, you know?" Hali said, trying to put things in perspective. "After it's all said and done, let the numbers speak for themselves. But for us, we're just eager to enjoy the game and win. We haven't won here in a long time, and we're doing that."
Thanks in no small part to Hali and Houston, the Chiefs' indisputable H-factor.
___
Online: http://pro32.ap.org and http://twitter.com/AP_NFL