Plate umpire tackles streaker at Orioles game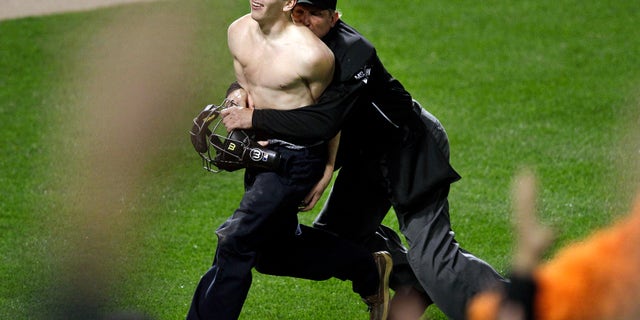 NEWYou can now listen to Fox News articles!
BALTIMORE – Plate umpire Jeff Kellogg received a loud cheer during the Baltimore Orioles' game against Oakland on Friday night when he tackled a streaker.
But the hit may not go down so well with Major League Baseball officials, who may discipline Kellogg over the incident, The Baltimore Sun reported.
The bare-chested fan ran onto the field in the middle of the seventh inning during the Orioles' 5-2 loss, and headed down the third base line, sliding head-first into home plate.
He stood up and continued running, when Kellogg gave chase and tackled him from behind.
Kellogg refused to comment after the game, but Orioles center fielder Adam Jones commended the umpire for the action he took.
"I told him, 'That's awesome,'" Jones said. "I'm sick and tired of these guys running on the field, man."
It was the fourth time someone had run onto the Camden Yards field this season.
"I'd [advocate] that people get Tased. I'd enjoy that," added Jones, referring to the brand of stun gun. "You don't run on the field and just disturb a game that's going on. It's private property."
Please click here for more from the Baltimore Sun.