Plans for more protective netting already in works in Philly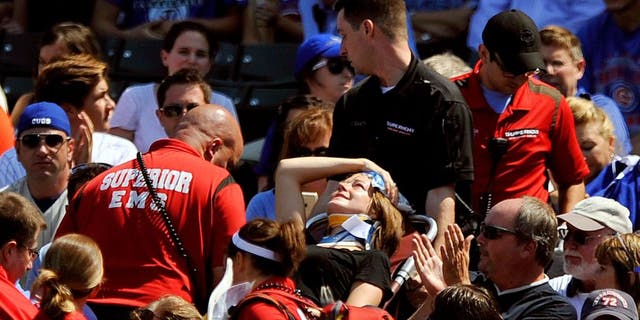 At least one major-league team plans to extend protective netting for fans.
The Philadelphia Phillies intend to install such netting at Citizens Bank Park, but are waiting on baseball before proceeding with final plans, according to major-league sources.
The Phillies do not want to proceed and then be forced to adjust if baseball establishes different regulations, sources say.
Baseball is working diligently on the fan-safety issue, but does not expect a resolution before the end of the season, league spokesman Pat Courtney said.
The issue has drawn increased scrutiny due to a series of incidents this season in which fans in the stands have been struck by broken bats and batted balls.
"We are actively studying and evaluating a number of issues related to fan safety, including bat safety, netting, etc., at the league level," Courtney said.
Baseball, however, cannot implement a uniform set of rules without first thoroughly examining the laws and codes in the cities and counties where its teams play.
The sport requires protective netting behind home plate, and some teams also use protective screens down the foul lines during batting practice.
Japanese baseball leagues use expanded netting extending beyond both dugouts and around the field. But major-league owners, in each of the last two labor negotiations, rejected proposals by the players to extend the netting, citing concerns that additional screens would detract from the experience of ticket buyers in certain premium seats, sources said.
Two incidents, in particular, focused recent attention on the threat that fans experience while seated close to the field.
The first occurred on June 5, when a female fan at Boston's Fenway Park was struck in the face by a shattered bat, suffering life-threatening injuries. The second was last Friday at Detroit's Comerica Park, where a woman was struck in the head by a foul ball.
"If today doesn't get nets up, what else is it going to take?" Tigers third baseman Nick Castellanos told reporters. "I mean, look what happened in Boston to the lady that got hit with, I think, (Brett) Lawrie's broken bat. What else has to happen for nets to go up?"
Added Tigers pitcher Justin Verlander, ". . . those low liners, they catch us off guard in the dugout and we're major-league baseball players. We still get hit. So everybody else can be in serious danger."
Most parks include signage that warns fans who sit close to the field to pay close attention -- "Be Alert Foul Balls and Bats Hurt," the signs at Fenway say. Tickets include disclaimers shifting all responsibility for injury to the fan.
In 2002, the NHL responded to the death of one of its fans -- Brittanie Cecil, 13 -- by mandating protective netting behind each goal. Cecil was hit by a puck while attending a Columbus Blue Jackets home game, and died two days later.
NHL commissioner Gary Bettman, addressing critics of the netting, said at the time, "After three minutes people won't know it's there."