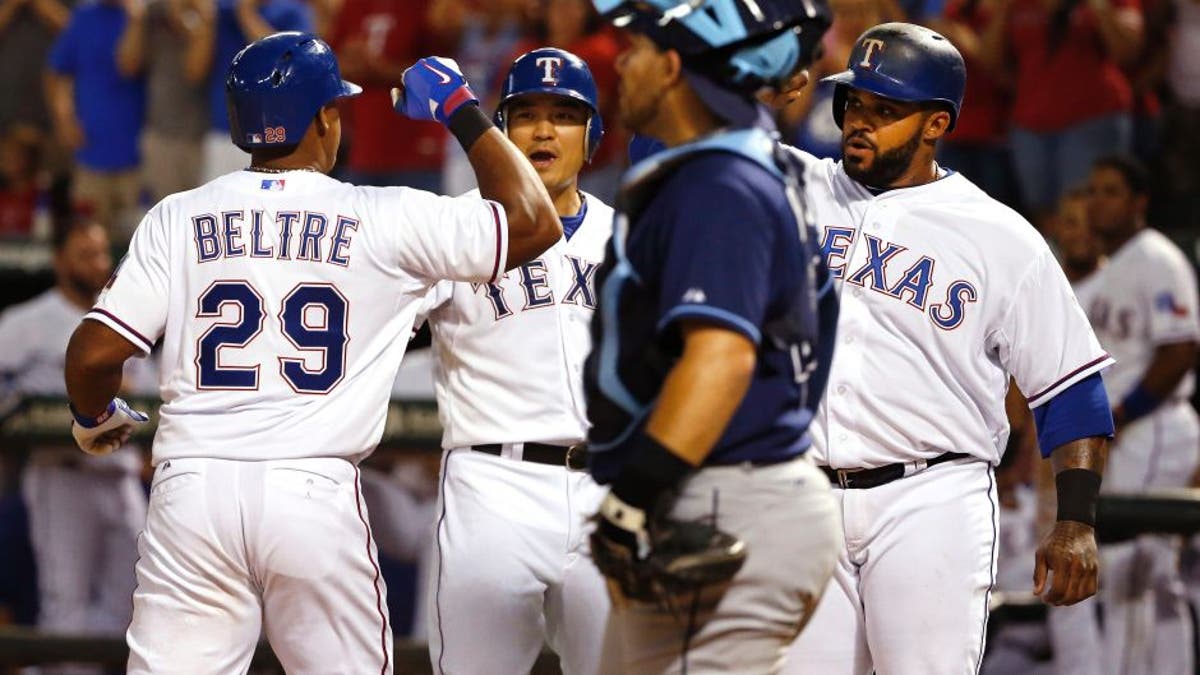 ARLINGTON, Texas -- €" Colby Lewis worked so hard to retired Tampa Bay's Asdrubal Cabrera to end the top of the sixth inning that the Texas offense rewarded him in a big way.
It took Lewis 15 pitches to get Cabrera to line out to right in what was then a 3-1 game with the Rangers on top. It took 15 minutes for the bottom of the sixth to end as the Rangers scored seven times to turn a close game into a 12-4 laugher.
The win moved the Rangers ahead of Tampa Bay in the wild-card standings and just 1 ½ games behind Los Angeles for the second wild-card spot. Texas is also just four games out of first place in the American League West, which is the closest it's been since June 27.
And the Rangers have a solid pitching performance from Lewis and a big inning to thank for the big move. Lewis allowed just one run in his six innings to pick up his 13th win of the season.
He also got something that's been common for him this year in plenty of run support. He came into the game fourth in the AL in run support and that number is going to go up after Texas sent 11 batters to the plate in the sixth.
Chris Gimenez, who smacked a two-run homer off Archer in the second inning, got the party started with an RBI single. Delino DeShields and Shin-Soo Choo each had RBI singles and Adrian Beltre capped the run with a three-run homer to left-center.
The big frame helped the Rangers avoid the late drama they needed to win games Thursday and Friday. That didn't go unnoticed.
"We needed a game like this just to take some of the pressure off guys," said Gimenez, who has two home runs and eight RBI in his eight starts for the Rangers this year. "It's not that you let up, it's just we did a good job of stepping up and putting the nail in the coffin. That's what good teams do when you have a chance to take advantage of things like that."
The Rangers had the big night against Tampa Bay ace Chris Archer, who allowed eight runs (seven earned) in 5 1/3 innings. The Rangers had 11 hits off Archer and snapped his string of quality starts at five.
There was no stopping his counterpart no matter how hard the Rays tried. Lewis is now just one win shy of his career high for a season and is 9-2 in his last 14 starts. He allowed just five hits and one run Saturday, but he had to work for every out.
He threw 10 pitches to retire Grady Sizemore in the first inning but that was just a warm-up act for his battle against Cabrera. Cabrera was the tying run at the time, but Lewis able to finish him on his 111th pitch.
"The last at-bat was a tough AB," Lewis said. "In that situation it was pretty impactful. It was a two-run lead. I was just trying to make the pitch and get the out. Choo came up with a little shoestring grab and made it out of the inning."
That long at-bat stuck out to Texas manager Jeff Banister.
"The guy (Lewis) that has been a mainstay for us and what he has meant to the starting rotation all year long," Banister said. "That's an old warhorse out there, doing what he does. And he wasn't going to give in. It was one of those battles that you look at at the end of the night, and I'm glad it worked out on our side."
While it was impactful at the time, the offense made sure that pitching staff was in good shape. The Rangers had three homers – with Choo adding a two-run blast to right in the seventh inning. Texas has now reached double figures in runs three times in April and got hits from nine different batters Saturday.
MORE FROM FOX SPORTS SOUTHWEST:
- PHOTOS: Cowboys Cheerleaders Auditions
- Ranking NFL quarterback salaries
- Highest paid player on every NFL team