Pittsburgh defense playing 'Steeler football' under new coordinator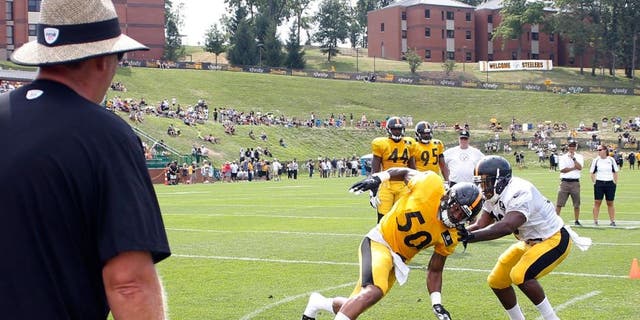 LATROBE, Pa. -- It was a gorgeous morning here in the Laurel Valley on Wednesday, as the sun shone on the peaceful campus of St. Vincent's College.
Well, peaceful until the first minute of team drills of the Pittsburgh Steelers' training camp practice, when linebackers Arthur Moats and Lawrence Timmons converged on rookie running back Cameron Stingily and separated him from the ball with a loud crack of their pads.
The players whooped from the sideline while the man in the straw hat and sunglasses watched from behind the offense. His expression didn't change much, but it was evident from the tone of his Alabama drawl he was pleased with what he saw.
"Helluva play," Keith Butler said flatly.
Butler is in his first few months as the Steelers' defensive coordinator, though if you talk to his players and assistant coaches, they'll tell you it's a role he's been playing in part for quite some time. The difference is now he's no longer doing it in concert with the legendary Dick LeBeau, who left after last season before joining the Tennessee Titans.
Though LeBeau technically resigned, it's clear the team wanted to move on. This is a franchise that's not used to having a sieve for a defense, and last season the Steelers ranked 18th in the NFL in yards and points allowed. That's a mediocre showing that would be an improvement for some teams but was the lowest ranking in either category for the Steelers since 1991.
The whispers from offensive coaches around the league were LeBeau, once known for the unpredictability of his zone blitzes, had become too predictable with his schemes and situational play calling. And worse, his defense as a whole had become too soft. That's not good enough in the Steel City.
It's now Butler's show, and the 59-year-old longtime assistant is intent on returning this defense to its dominant form.
Even if the rules make it harder to do that these days.
"Nah, we're going to be physical. We're going to come after people," said outside linebackers coach Joey Porter, who has a unique perspective on Butler because he played for him and now coaches alongside him. "That's why he puts us in a lot of tough situations (at practice), just to see how we're going to play. It's easy to go out there and blitz every other play. He wants it to be man-on-man, 'I'm not scheming you, I'm asking you to beat the person across from you; can you get it done for me?'
"That is Steeler football, man. That's how you find out how tough you are."
Butler, the Steelers' linebackers coach from 2003 through last season, opened training camp by telling his players to, in the words of starting defensive end Stephon Tuitt, "Just go." Butler wants them to play faster, harder and more aggressively than they did last season when they allowed more than 21 points in nine of their first 12 games on their way to a 7-5 record. The defense then briefly clamped down to keep opponents at or below that mark in the final quarter of the season. Not surprisingly, the Steelers won all four of those games, only to have the Baltimore Ravens hang 30 points on them in a wild-card round loss.
Exit LeBeau, along with retired safety Troy Polamalu and cornerback Ike Taylor, and enter Butler.
With an offense loaded with weapons and an improved offensive line, it's Butler's job to remind his players there's a tradition of much better defense to uphold around these parts.
"You have to," Butler said. "I've been to three Super Bowls since I've been here and we won two of them. All of those teams that were in the Super Bowls were physical teams. They were examples of what we're talking about when we talk physicality. James Harrison is still here, but we had a lot of guys last year that lot of the young guys saw play, and they admired them.
"It's just a matter of trying to carry on that legacy."
Butler's defense will still have some of the same elements as LeBeau's schemes. The Steelers will continue to run their traditional 3-4 front in their base defense because Butler believes it provides flexibility, with the outside linebackers being able to blitz or drop into coverage. He knows this defense and he knows it well, so well he's been serving as a pseudo-coordinator for years.
Porter said Butler has always extended his coaching to position groups other than the linebackers and would often make the halftime adjustments for the defense after LeBeau diagnosed why an offense was effective with certain plays.
"Back then, they had it on black and white on the paper sheets and they would come in at halftime and get on the board to show where everybody is," Porter said, making a decade ago seem as far away as Butler's career with the Seahawks from 1978-87. "Now, last year we have the monitors where you can see the play as it happens. You would always see him sitting down and telling guys where they're supposed to spill, squeeze, where the safety is supposed to be.
"He was always able to make these adjustments. He's a sharp mind."
But it seems less about scheme and more about attitude for this defense right now.
The players are getting the message. They're talking about imposing their will on the offense more than they did last year. The defensive linemen are pleased Butler wants them to attack and make plays, whereas in the past, their assignments were simply to tie up blockers and fill in gaps. And the defensive backs like the way Butler is talking about putting them in a position to "hit people when they're not looking."
During Wednesday's practice, there were a lot of big, legal hits. And when there weren't, the players on the sideline yelled out corrections faster than the coaches could.
"Don't give them a yard!" "Get off the block!" "If you can make a play, make it!"
Linebacker Vince Williams certainly made one late in practice when he lit up Stingily as the ball arrived on a short route. The crowd on hand let out an "Ooooh." Williams' defensive teammates ran over to congratulate him.
Butler, again in his spot behind the offense, gave Williams a big overhand clap.
"I'm not looking for comfort," head coach Mike Tomlin said minutes later, after the intense two-hour-plus practice had concluded. "(Physical defensive play) is on our agenda, and we'll measure it by how we hit in stadiums. We're seeing some positive signs toward that out here, but I'm not seeking comfort."
What he's seeking is a coach who can turn this defense around and make it start playing, as Porter put it, Steeler football. Perhaps Butler is already showing he's that guy.
"I think we all came to that determination," Tomlin said with a laugh. "We don't care who gets the credit."