Pitino 'blamed Ping-Pong balls' for Celtics mess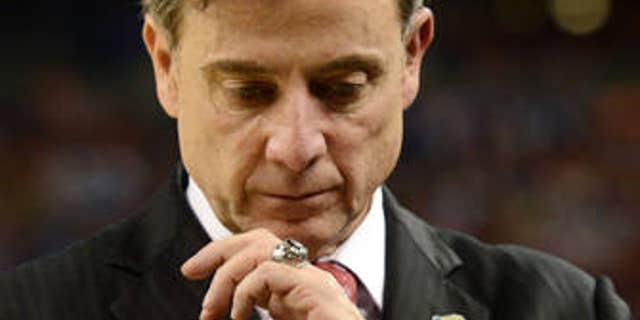 NEWYou can now listen to Fox News articles!
Rick Pitino's time in Boston wasn't necessarily an "era" so much as a "quagmire."
With Pitino as coach and president, the Celtics writhed to a 102-146 record and became the sports laughingstock of the city before Pitino skittered away in the winter of 2001.
Things have gone better since Pitino fled without so much as a farewell press conference. He has added another NCAA championship and three more Final Four appearances at Louisville, and on Sunday he will be inducted into the Naismith Memorial Basketball Hall of Fame for his accomplishments at Boston University, Providence College, Kentucky and Louisville.
But returning to the state of his greatest professional failure forced him to reflect on those rough years on Causeway Street.
"It sort of defined me in the end, because there [were] probably two things missing in my life as a coach," Pitino told The Boston Globe. "One was humility, and the other one was failure. We took over a 15-win team before we got there, and I banked everything on getting Tim Duncan [in the draft]. And when that didn't happen, you failed them. But I left there understanding that there's nothing wrong with failure if you learned the lesson of why you failed, and the other thing is it taught me great humility of why you win and why you lose."
The Celtics got neither the first nor the second pick in the 1997 draft, causing them to miss out not just on Duncan but also on Keith Van Horn, who was considered to be a halfway decent consolation prize. They took Colorado point guard Chauncey Billups at No. 3 and Pitino's own Kentucky forward Ron Mercer at No. 6. The Billups pick wouldn't have been so bad -- if Pitino hadn't traded him in the middle of his rookie season.
Now, Pitino takes accountability -- sort of -- for the mess he contributed to in Boston. He freely acknowledged that he inherited a 15-win team to illustrate that the franchise was in a funk before he even arrived, but he never seemed to mention that he led the Celtics to a mere 19 wins two years later and alienated everyone from reporters to season ticket-holders to casual fans by the time he left.