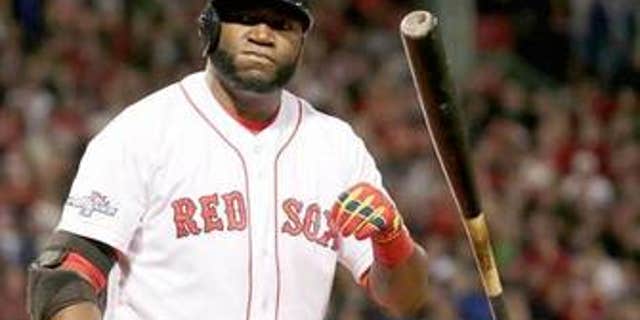 David Ortiz is a stand-up guy, but he is struggling at the plate in the ALCS.
Save for his game-tying grand slam in Game 2, Big Papi has gone 0 for 14 this series against a Tigers pitching staff that continues to fan Boston hitters at a ridiculous pace -- 53 K's over four games.
Though, despite his struggles at the plate, Ortiz gives credit where credit is due and verbally tipped his cap to Detroit's slingers after Boston's 7-3 Game 4 loss.
"Their starting pitching has been outstanding," Ortiz said, according to WEEI.com. "That guy (Doug Fister) that started the game, that was impressive. He was painting everything. His breaking ball was better than what I have ever seen. He was spotting his changeup. He was throwing the pitch he wanted in whatever count. There isn't any better than that."
That was in reference to Detroit's fourth starter in the rotation. Fister held the Red Sox to one earned run on eight hits, with seven strikeouts over six innings of work Wednesday night. That's right, Detroit's fourth starter manhandled a Boston lineup that was tops in the bigs in runs and RBI, ... and second only to Detroit in team batting average and hits.
That same Boston lineup that batted .277 in the regular season has gone cold in the ALCS, batting .186 against a meaty Tigers rotation.
Detroit essentially has three aces in Anibal Sanchez, Max Scherzer and Justin Verlander. It's these three starters that compelled some (me) to think they were the World Series favorites. But Dertroit was cast somehow as underdogs this postseason with all eyes focused on the surging Red Sox and star-studded Dodgers as the most likely teams to reach the big show.
But somebody might have said once that "starting pitching wins World Series," and if that's the case, the Tigers are quite certainly the team to beat. With a reload of their three starters for Games 5 and 6, and a possible Game 7, it's hard to imagine the Red Sox getting out of this alive.
Here's a quick recap:
Sanchez, who takes the mound in Game 5 threw six no-hit innings in Game 1, striking out 12 before getting pulled with a high pitch count.
Scherzer, who is in line to take the ball in Game 6 added his own stellar performance in Game 2 hurling seven innings of one-run ball and striking out 13. Scherzer gave his team a solid four-run cushion before the aforementioned Papi got his one and only hit this series off Detroit's closer by default, Joaquin Benoit.
And should there be a Game 7, Boston gets to face Verlander, a man who needs no introduction, and won't get one here. Except in Game 3 he threw eight innings, gave up one run and fanned another 10 batters.
Ortiz echoed these hard-hitting analytics better and in much fewer words after Game 4.
"This is playoffs," Ortiz told reporters. "Everybody brings their best. The way they've been pitching is a whole totally different game. They're taking things to another level, which is what you're supposed to do in the playoffs."
Ortiz would know with his storied history of postseason heroics. But in the "what have you done for me lately" world of sports, what has Ortiz done since hitting his game-tying grand slam in the eighth inning of Game 2?
The answer. Well, nothing I suppose.
But don't get him wrong. Big Papi is not throwing in his big towel by any means.
"Just because I'm saying they're good doesn't mean it's over," Ortiz told reporters. "I give credit to whoever deserves it. They deserve credit. They've been pitching their (butts) off."
They have been pitching their butts off. And that doesn't figure to end anytime soon.
The original article can be found at FOXSports.com: Pitch your butt off.