Pirates infielder Jung Ho Kang investigated over alleged sexual assault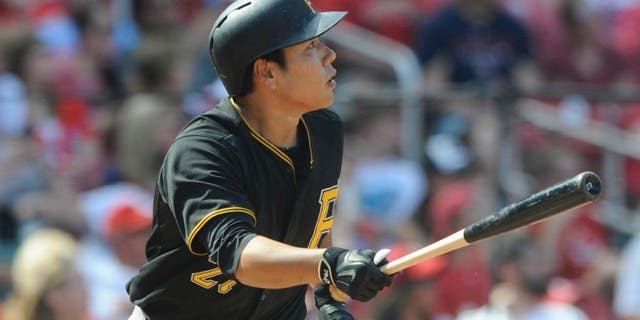 NEWYou can now listen to Fox News articles!
Chicago police reportedly are investigating a sexual assault allegation made against Pittsburgh Pirates infielder Jung Ho Kang over an incident that occurred last month.
The Chicago Tribune reported Tuesday that Kang, 29, invited a 23-year-old woman up to his hotel room on June 17, hours after the Pirates had lost 6-0 to the Chicago Cubs at Wrigley Field. The woman claimed that she blacked out after Kang served her a drink, then went in and out of consciousness as he sexually assaulted her.
Police spokesman Anthony Guglielmi told the Tribune that the woman did not fully regain consciousness until she went home in a taxi. She made a formal complaint to police on June 29, 10 days after having a rape kit done at a local hospital.
Pirates team President Frank Coonelly said the team was aware of the allegation against Kang and was taking the matter "extremely seriously."
"As a result of the ongoing police investigation, we cannot comment further at this time," Coonelly said in a statement. "We have also advised our staff and our players that they should not comment on the matter either. We all need to be respectful to the police investigation of a very serious allegation."
Kang, of South Korea, signed a 4-year, $11 million contract with the Pirates last year. He finished third in the voting for National League Rookie of the Year, despite missing the final month of the season with a broken leg.
In 48 games this season, Kang has batted .250 with a .326 on-base percentage, 11 home runs and 28 runs batted in.