Pirates can dream after star prospect's long-awaited debut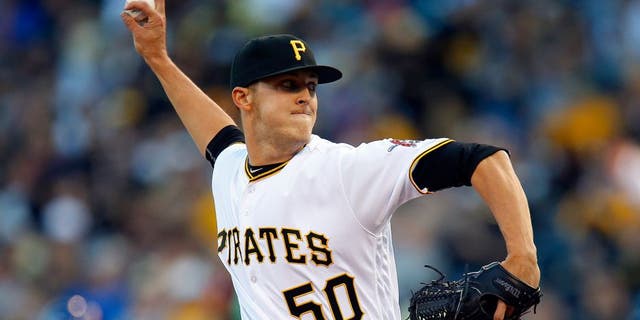 NEWYou can now listen to Fox News articles!
The report from the Major League Scouting Bureau in 2010 assigned high school right-hander Jameson Taillon an overall future potential grade of 75 on the 20-to-80 scouting scale.
The bureau does not scout every player; Clayton Kershaw in '06 was one notable omission. Still, Taillon's grade was the highest ever awarded by the bureau, which has gathered more than 30,000 reports on players it has scouted since 1989. A "75" projects to a Hall of Famer, according to former Mariners general manager Jack Zduriencik, who is serving as a draft analyst this week at MLB Network.
Taillon, 24, turned out to be the second pick in '10, just behind Bryce Harper, just ahead of Manny Machado. He finally made his triumphant major-league debut for the Pirates on Wednesday night, six years after his selection. His story is a reminder that the baseball draft, which begins Thursday night, offers no certain paths, no guarantees.
The report from the scouting bureau, a copy of which was obtained by FOX Sports, said that Taillon, now 6-foot-5 and 240 pounds, had a body type similar to Roy Halladay's.
The summation read: "Physically imposing high school right-handed pitcher with electric stuff. Exciting to watch. Rare combination of power & pitchability. One of best amateur pitching prospects that I have seen. All pieces there for potential franchise major-league right-handed starter."
Taillon, in pitching six strong innings against the Mets, demonstrated that the report was not mere hyperbole. Heck, he might even be an All-Star by now if he had not missed the past two seasons due to Tommy John surgery in 2014 and a sports hernia in '15.
He was a "75" for a reason. And all these years later you can still dream on him, as the scouts would say.
Another start for Taillon is not assured -- Pirates general manager Neal Huntington said the righty's promotion was probably a matter of "circumstance over preparedness," given the team's need for a starter after a rainout led to a doubleheader Tuesday.
No matter, Taillon had a 61-to-6 strikeout-to-walk ratio at Triple A, and he looked good Wednesday night, throwing 60 of his 91 pitches for strikes, registering 95 to 97 mph with his fastball, flashing an impressive changeup and curve.
A PROSPECT? FOR KELLY JOHNSON?
Kelly Johnson is a 34-year-old utility man, batting .215 with a .562 OPS. So, why the heck did the Mets give up an actual prospect for him in a trade with the Braves on Wednesday? The return for a journeyman such as Johnson typically is more of an organization player.
True, the Braves included $450,000 of the approximately $1.3 million remaining on Johnson's contract, according to the New York Post. But the pitcher the Mets gave up, right-hander Akeel Morris, immediately became the No. 21 prospect in the Braves' talent-rich system, according to MLBPipeline.com.
The trade certainly demonstrates the Mets' urgency and commitment -- and in fairness, a prospect's value is in the eye of the beholder. Morris, 23, does not throw enough strikes in the estimation of some Mets officials. He was averaging 12.8 strikeouts per nine innings at Double A, but also 5.7 walks.
Such poor command is a red flag, but Morris' arm is live enough for the Braves and others in the sport to view him as a potential setup man. The Mets could have saved him for a bigger deal, rather than give him up for a player with minimal trade value.
HIS NAME IS SPELLED A-L-E-D-M-Y-S
Now that the All-Star voting is entirely online, teams can adjust their nominees almost up to the moment the balloting begins. Such last-minute switches, however, are not always easy to pull off.
The Cubs demonstrated the flexibility of the new system last season, moving quickly to install Kris Bryant as their candidate at third base after an injury to Mike Olt.
The Cardinals, facing a potential domino effect, could not pull off the same trick with shortstop Aledmys Diaz, who is absent from the ballot even though he ranks fifth among NL shortstops in OPS -- and for a time led the entire league in that category.
The voting opened April 24, and by then Diaz was well on his way toward joining Albert Pujols as the only Cardinals rookies to notch 30 or more hits in a month. The Cardinals, though, were not certain when Jhonny Peralta would return, and what their infield would look like when he did. Clubs can list only one player per position, and the ballot cannot be altered after the voting begins, except for drug violations.
As it turned out, Diaz remained at short, with Peralta taking over third and Matt Carpenter moving to second. To get Diaz on the ballot, the Cardinals would have needed to put all three players at new positions. At the time, they were not prepared to make such a commitment.
Fans can still vote for Diaz as a write-in candidate, and he also can be listed on the player ballot. Naturally, he is not among the top five current NL leaders at shortstop in the fan voting. The top five are the Cubs' Addison Russell, Rockies' Trevor Story, Giants' Brandon Crawford, Mets' Asdrubal Cabrera and Reds' Zack Cozart.
That's right, Dodgers rookie Corey Seager isn't in the top five, even though he is on the ballot and leads all NL shortstops in OPS.
IF IT WAS GOOD ENOUGH FOR TROUT . . .
Two potential first-rounders, high school right-hander Ian Anderson and high school outfielder Will Benson, will attend the draft at the MLB Network studios in Secaucus, N.J.
A number of prospects cannot make the event due to their participation in the College World Series. But those who are squeamish can simply recall the example of Mike Trout, who was the only player to attend the draft in 2009, the first year it was televised by the network.
I wrote about Trout's decision three years later in a story about why he fell to the Angels at the 25th pick.
(Full disclosure: I work for MLB Network).
"I was really hesitant about that," said Trout's father, Jeff. "I know how those things go. I said, 'Mike, you can get up there and drop to the second or third round and we'll look like fools.'"
"My wife (Debbie) said, 'Nah, let's go.' As always, my wife talks us into smart decisions."
The network is only a two-hour drive from the family's home in Millville, N.J. Mike, then 17, sided with his mom.
"It was a once-in-a-lifetime chance, being there, meeting all of the Hall of Famers," Mike said.