Pickings slim on Day 2 of NHL free agency after a flurry of deals were made with top players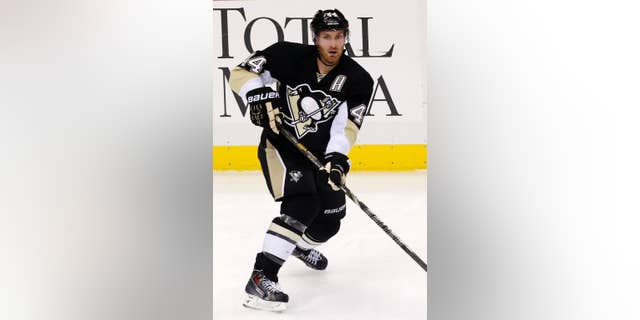 NEWYou can now listen to Fox News articles!
Day 2 of NHL free agency will have a hard time living up to the first.
The biggest names and best players agreed to deals, or signed contracts, on Tuesday.
Paul Stastny, Jarome Iginla, Matt Niskanen and Ryan Miller were among the notable players snatched up soon after the market opened, signing deals with new teams.
Relatively notable players available Wednesday are: Radim Vrbata, Dany Heatley, Mike Ribeiro, David Legwand, Mikhail Grabovski, Ville Leino, Nikolai Kulemin, Steve Ott, Olli Jokinen and Martin Brodeur, the NHL's all-time winningest goalie.
"There are still some players out there," Detroit Red Wings general manager Ken Holland insisted Tuesday night.
Some franchises made bold moves even though they might have overpaid for the best players available.
Stastny cashed in, signing a $28 million, four-year contract with his hometown St. Louis Blues, leaving the Central Division rival Colorado Avalanche.
The Avs found someone to score in Stastny's place, picking up an aging player who has proven he's still got it. Iginla was given a three-year, $16 million deal on Tuesday, his 37th birthday. The wing had 30 goals to tie for the most in Boston last season. Colorado also acquired a veteran defenseman, Brad Stuart from San Jose.
The Vancouver Canucks gave goalie Miller a three-year deal worth $18 million after trading away Roberto Luongo and Cory Schneider.
NHL teams can spend as much as $69 million, an increase from last season's $64.3 million salary cap.
The Red Wings were willing to spend some of their money on a top defenseman, but each of them passed. They settled for re-signing Kyle Quincey to an $8.5 million, two-year deal.
"We pursued some right-shot defenseman and when they were off the market, we signed Quincey," Holland said. "The cap went up, and so did the cost of players."
The Washington Capitals also made a big splash — or at least spent the most money on a pair of players — by bolstering the blue line behind superstar Alex Ovechkin and giving defense-minded coach Barry Trotz the pieces he sought to build a winner. They signed Niskanen to a seven-year, $40.25 million contract soon after sealing a $27.5 million, five-year deal with defenseman Brooks Orpik, a pair of former Pittsburgh players.
The Penguins, meanwhile, signed defenseman Christian Ehrhoff, forward Blake Comeau and goalie Thomas Greiss to one-year deals.
The Minnesota Wild signed forward Thomas Vanek to a $19.5 million, three-year deal, two summers after investing a lot in free agents Zach Parise and Ryan Suter.
Dallas got a jump on the competition before free agency began, acquiring high-scoring forward Jason Spezza in a trade with Ottawa, taking advantage of having space under the salary cap.
"A lot of the teams that are up against the cap, they can't do anything," Stars general manager Jim Nill said. "We had lots of room. This worked out well for us. I look forward to Jason Spezza being a Dallas Star for many years."
The 31-year-old Spezza, set to be an unrestricted free agent next summer, had asked for a trade and previously turned down a deal that would have sent him to Nashville.
Buffalo, which had the fewest points in the NHL last season, and Florida, which was next worst, were very aggressive.
The Panthers invested tens of millions on free agents, adding centers Dave Bolland ($27.7 million, five years) and Jussi Jokinen ($16 million, four years), along with Stanley Cup-winning defenseman Willie Mitchell ($8.5 million, two years).
The Sabres infused their roster with veteran talent, giving forward Matt Moulson $25 million over five years and forward Brian Gionta a $12.75 million, three-year contract.
"One of the more desperate days of the hockey season," Hurricanes owner Peter Karmanos lamented. "A lot of our brethren are out running around trying to see how much money they can spend, and when the dust settles they'll figure out whether or not they have a hockey team."
___
AP Sports Writers John Wawrow, Josh Dubow, Joedy McCreary, Pat Graham, Tim Reynolds and Schuyler Dixon contributed to this report.
___
Connect with Larry Lage at www.Twitter.com/larrylage