Picking the 68 All-Stars is a thankless process, but here goes anyway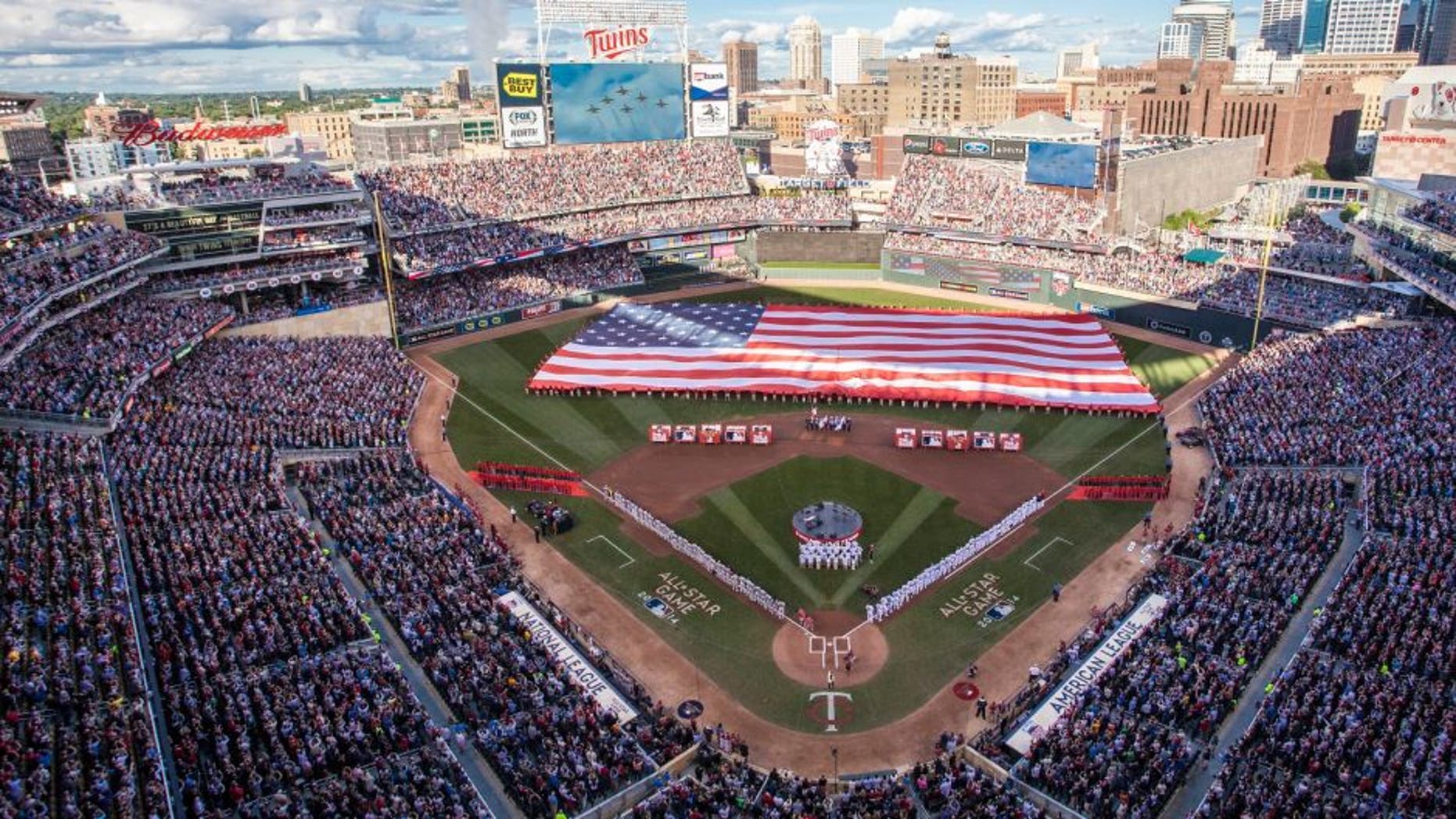 Every season, I relish the challenge of picking my 68 All-Stars, knowing that pretty much all of my readers will be spoiling for a fight.
The process gives me insight into how difficult it is for the managers to complete their rosters after the fan and player vote. And of course, it also triggers the usual hysterical responses from readers who insist I hate their teams.
(I do).
My favorite protests are from fans who object when I not only leave a player off my team, but also fail to include him on my list of exclusions.
"Not even a notable omission?" the fans will ask, incredulously.
NO. NOT EVEN A NOTABLE OMISSION! WHY DOES THIS BOTHER YOU?!?!
(Ah, that feels better).
Seriously, I'm employing the same system that baseball does, picking 13 pitchers and 21 position players for both the American and National Leagues, making sure that, good golly, all 30 clubs are represented.
As always, do not worry about your favorites getting snubbed, by me or anyone else. By the time the injured players and ineligible starting pitchers are replaced, nearly everyone will get a trophy, just like in Little League.
Anyway, here goes. Starters denoted by asterisks.
AMERICAN LEAGUE
Starting pitchers
L Cole Hamels, Rangers
R Corey Kluber, Indians
R Danny Salazar, Indians
L *Chris Sale, White Sox
R Aaron Sanchez, Blue Jays
R Steven Wright, Red Sox
Notable omissions: Trevor Bauer, Indians; Marco Estrada, Blue Jays; Michael Fulmer, Tigers; Matt Shoemaker, Angels; Jose Quintana, White Sox; Masahiro Tanaka, Yankees; Chris Tillman, Orioles; Justin Verlander, Tigers.
Quintana is the worst omission, but I'm going with only six starters to accommodate the ridiculous number of quality relievers in the AL.
Weird random note: Both the Orioles' Ubaldo Jimenez and Red Sox's Clay Buchholz made my list of omissions a year ago.
Jimenez's ERA this season is 6.95. Buchholz's is 5.91.
Relievers
R Dellin Betances, Yankees
L Zach Britton, Orioles
R Wade Davis, Royals
R Will Harris, Astros
R Kelvin Herrera, Royals
L Andrew Miller, Yankees
R Francisco Rodriguez, Tigers
Notable omissions: Brad Brach, Orioles; Aroldis Chapman, Yankees; Alex Colome, Rays (DL); Craig Kimbrel, Red Sox; David Robertson, White Sox.
Can't argue with those who might say Quintana as a starter is more deserving than K-Rod as a reliever, or that Brach's numbers are too ridiculous to ignore.
Problem is, Harris' numbers this season are even better than Brach's, and one no-name setup type is enough. K-Rod, the active leader with 409 saves, is still a star after all these years.
Chapman?
Sorry, I'm not about to reward a player who was suspended for the first 30 games for violating baseball's domestic-violence policy.
Catchers
*Salvador Perez, Royals
Brian McCann, Yankees
Matt Wieters, Orioles
Notable omission: Stephen Vogt, Athletics
I'd be comfortable ditching either McCann or Wieters to squeeze in someone at another position, but three catchers generally are a must.
Infielders
* DH David Ortiz, Red Sox
* 1B Miguel Cabrera, Tigers
1B Chris Davis, Orioles
* 2B Jose Altuve, Astros
2B Robinson Cano, Mariners
SS Xander Bogaerts, Red Sox
* SS Francisco Lindor, Indians
*3B Josh Donaldson, Blue Jays
3B Manny Machado, Orioles
3B Evan Longoria, Rays
UT Eduardo Nunez, Twins
Notable omissions: Adrian Beltre, Rangers; Nick Castellanos, Tigers; Edwin Encarnacion, Blue Jays; Ian Kinsler, Tigers; Eric Hosmer, Royals; Dustin Pedroia, Red Sox; Kyle Seager, Mariners; Danny Valencia, Athletics.
How strong is the AL at third? I've got three third basemen on the team, and four in my omissions!
Donaldson vs. Machado as the starter is absurdly close; I'm fine with either.
If you don't want to live in a world where Eduardo Nunez is an All-Star, I understand.
Outfield
Carlos Beltran, Yankees
Mookie Betts, Red Sox
*Jackie Bradley Jr., Red Sox
Nelson Cruz, Mariners
Khris Davis, Athletics
*Ian Desmond, Rangers
*Mike Trout, Angels
Notable omissions: Adam Eaton, White Sox; Michael Saunders, Blue Jays; George Springer, Astros; Nomar Mazara, Rangers; Mark Trumbo, Orioles.
My apologies to Trumbo, who is tied for the AL lead with 23 homers, but I've already got four Orioles and I prefer Davis as a better, more versatile defender.
As for the rest of the list, I'm not sure which selection is a bigger surprise, Desmond or Bradley. Both are great stories.
NATIONAL LEAGUE
Starting pitchers
R Jake Arrieta, Cubs
L *Madison Bumgarner, Giants
R Johnny Cueto, Giants
R Jose Fernandez, Marlins
L Clayton Kershaw, Dodgers
L Jon Lester, Cubs
R Stephen Strasburg, Nationals
R Noah Syndergaard, Mets
R Julio Teheran, Braves
Notable omissions: Jacob deGrom, Mets; Kenta Maeda, Dodgers; Carlos Martinez, Cardinals; Drew Pomeranz, Padres; Tanner Roark, Nationals; Max Scherzer, Nationals.
What a crazy list, even knowing that Kershaw will be unavailable.
I love starting Bumgarner, but Syndergaard and Lester also warrant strong consideration (Arrieta, meanwhile, has a relatively mortal 4.05 ERA in his past six starts).
Martinez would be my replacement for Kershaw; I'm tempted to go with Scherzer, but it's difficult to select a pitcher who leads the NL with 21 homers allowed.
Relievers
R Jeurys Familia, Mets
R Kenley Jansen, Dodgers
R Seung Hwan Oh, Cardinals
R Mark Melancon, Pirates
Notable omissions: Adam Liberatore, Dodgers; David Phelps, Marlins; A.J. Ramos, Marlins; Hector Rondon, Cubs; Brad Ziegler, Diamondbacks.
Yeah, I know I'm all-right-handed, but I'm not taking Liberatore over Melancon and lefties don't touch Oh and Jansen.
Catchers
Buster Posey, Giants
Jonathan Lucroy, Brewers
*Wilson Ramos, Nationals
Notable omissions: None.
Yadier Molina winning the fan vote would cost a deserving player a spot; Molina's name recognition should not be enough to overcome his .657 OPS.
Infield
*DH Paul Goldschmidt, Diamondbacks
1B Wil Myers, Padres
*1B Anthony Rizzo, Cubs
*2B Daniel Murphy, Nationals
2B Ben Zobrist, Cubs
SS Brandon Crawford, Giants
*SS Corey Seager, Dodgers
3B Nolan Arenado, Rockies
*3B Kris Bryant, Cubs
3B Matt Carpenter, Cardinals
3B Jake Lamb, Diamondbacks
Notable omissions: Brandon Belt, Giants; Aledmys Diaz, Cardinals; Derek Dietrich, Marlins; Danny Espinosa, Nationals; Jean Segura, Diamondbacks; Trevor Story, Rockies.
Addison Russell likely will win the fan vote, but he doesn't even make my list of omissions, not when his OPS as a shortstop ranks 10th in the NL.
Lamb, you ask?
He's second in the NL in OPS, behind only Carpenter.
Outfielders
Jay Bruce, Reds
*Yoenis Cespedes, Mets
*Bryce Harper, Nationals
Odubel Herrera, Phillies
Dexter Fowler, Cubs
Carlos Gonzalez, Rockies
*Marcell Ozuna, Marlins
Notable omissions: Charlie Blackmon, Rockies; Ryan Braun, Brewers; Adam Duvall, Reds; Gregory Polanco, Pirates; Christian Yelich, Marlins.
Polanco would be my first choice to replace the injured Fowler; I understand that Braun apologized and served his penalty for PED use, but the sport does not owe him any favors.
Duvall is second in the NL with 22 homers, but I prefer Bruce as my Reds representative; he has 17 homers and a higher on-base percentage.