Photo: Rangers jab at second-place Astros after locking up AL West crown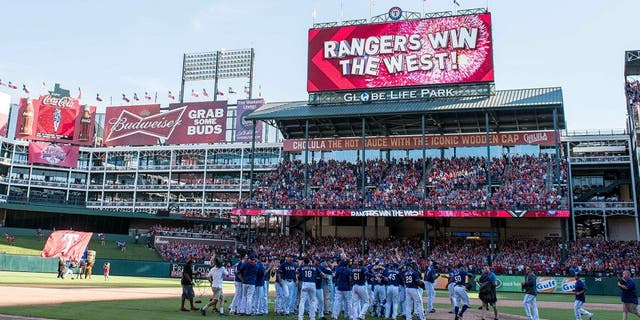 NEWYou can now listen to Fox News articles!
The AL West division was one of MLB's most competitive this season. For much of the spring and summer, the upstart Houston Astros held a claim on first place. However, they fizzled out during the past two months and had to fight tooth and nail in order to lock up the second Wild Card spot on Sunday.
Their cross-state rival Texas Rangers, meanwhile, clinched thanks to the arm of ace Cole Hamels on Sunday, as they were able to hold on to the lead they amassed after a masterful four-game sweep of those Astros a few weeks back at Globe Life Park.
Right after the game, the Rangers sent a bit of a message to the Astros on the Jumbotron at Globe Life Park...and it had to do with the Astros' 'come and take it' slogan they trotted out earlier in the year while they were in first place:
The Astros will face the New York Yankees in the AL Wild Card game. Should they advance, they'll then play the Kansas City Royals. If the Astros and Rangers persevere past the ALDS, they'd face off again in the ALCS...and that could be a pretty intense battle.