Phoenix Raceway moving start-finish line, other major changes for 2018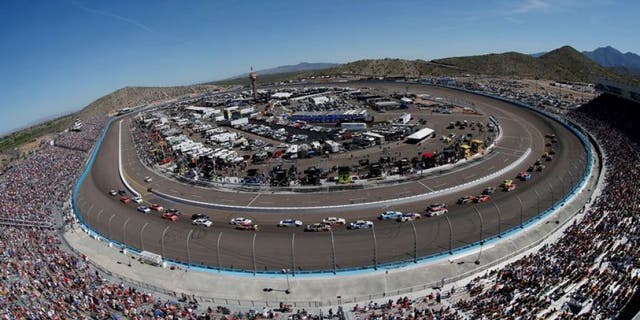 International Speedway Corp. announced details Monday for the $178 million track reconfiguration project that Phoenix International Raceway will receive in an expansive reconstruction, expected to be completed by Nov. 2018.
Among the major changes will be a relocation of the start-finish line to the exit of Turn 2, new grandstands positioned through Turn 1-2 and into the dogleg, and removal of current frontstretch grandstands that will be replaced by RV parking.
Joey Logano, who was at the press conference, shared his excitement for the upgrades, specifically the movement of the start-finish line.
"There is going to be high-energy restarts," Logano said. "There is that dive bomb move at the dogleg. Where the start-finish line will now be placed, it's free game. Drivers will be short-cutting that and make Turn 3 very interesting. It's inviting to go three or four-wide into the corner. I couldn't be more excited about seeing this. It's exciting to be a part of a sport invested in making its facilities state-of-the-art."
Check out some of the other upgrades PIR announced on Monday:
New seats will be upgraded to individual seats, WiFi access, new climate-controlled club seating.
Interactive fan zone added to infield with exclusive access to the garage area at PIR.
Brand new Gatorade Victory Lane.
High visibility options to the driver's meeting, new pre-race zone, entertainment for driver introductions.
State-of-the-art medical center and new media center.
Elevator/escalators added to outside of grandstands to give fans opportunity to get to upper-levels without taking stairs.
New midway will be featured outside of track. New tunnel will connect midway to infield Fan Zone.
In 2011, PIR was repaved into a new configuration for a price tag close to $10 million.
Check out the new design that PIR will feature in 2018.