Philip Rivers' brother Stephen hopes to get his shot in the NFL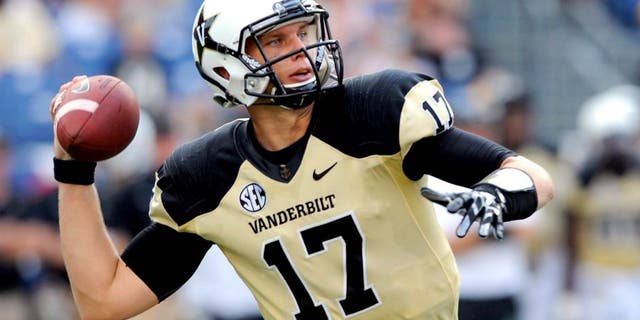 Stephen Rivers' collegiate career didn't go quite like his brother Philip's, but he's doing everything in his power to change the narrative before the 2016 NFL Draft.
Stephen has the size (6-foot-7, 235 pounds) and pedigree that NFL teams look for, but he doesn't have the game tape to back up a strong projection at the next level.
Stephen was a top recruit who chose LSU, but after spending three years there as a backup, he transferred to Vanderbilt. He couldn't run away with the starting job in his one season at Vanderbilt, so he transferred to Southwestern State to be closer to home and get an opportunity to start.
Although Stephen lost his starting job in September, he went on a roll after gaining his job back midway through the season. He started the final four games and completed 79.7 percent of his passes for 788 yards, six touchdowns and one interception.
Via NFL.com:
Stephen carried that momentum through his performance during the NFLPA Collegiate Bowl showcase in California back in January. He completed 11 of 17 passes for 96 yards and a touchdown.
Stephen is participating in George Whitfeld's quarterback academy in California, alongside other quarterback prospects like Michigan State's Connor Cook and Ohio State's Cardale Jones. He also speaks with Philip daily, and his brother has been a huge help, per NFL.com.
After his late surge, Stephen is confident that he can provide an excellent return for any franchise willing to make him a late-round draft flier.
The big day for Stephen is March 15th, when pro scouts will get a closer look at the Southwestern State pro day. This event will serve as Stephen's best opportunity to show NFL scouts that he is more than just a name with the right athletic build.