Philadelphia's Captain Video looks for edges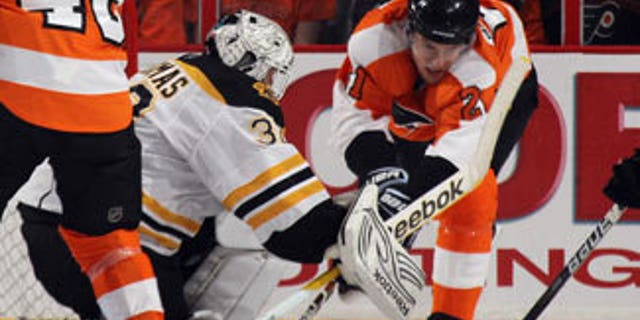 PHILADELPHIA -- Long before Flyers coach Peter Laviolette actually said it, video coach Adam Patterson already confirmed it.
"We just didn't have the jump we usually have in a hockey game," said the Flyers' video guru when asked what the game tape of Saturday's 7-3 Game 1 loss to the Boston Bruins revealed.
"When you don't have the jump, the execution is never there, and it's very noticeable in the little things like faceoffs, which are a reflection of what our game is," he continued. "When we're not faceoff ready, we're not doing things we've been working on all year like defensive-zone wins. It's just a jump or a pop you usually see … whatever you want to call it. We need to initiate, that's kind of our game."
If Patterson sounded a lot like the players and the head coach in the wake of one of the team's worst playoff setbacks in recent memory, he should. The coaching staff relies on Patterson to basically provide the good, bad and ugly of Philadelphia's performance from the previous night. In Saturday's Game 1 loss, there weren't many positives and, if it wasn't evident in real time, the video certainly confirmed that fact.
"Sunday was different because we didn't really play well (on Saturday)," Patterson told NHL.com. "It was more of a teaching day, so I broke some 70 clips down to 15 or 20 since I have to keep it short for the players -- the (video) meetings can't be much longer than 10 minutes. My job is to make sure all the ins and outs of the clips are there and arranged. Lavi and I will go through it together a couple times and he'll point out a couple things to look for."
Patterson said Laviolette and assistant coaches Craig Berube and Kevin McCarthy each break down a period and request clips at certain points of those 20-minute segments to review, ad nauseam, the following day.
Technological advances have certainly made Patterson's job a tad easier -- not that he needs it as a graduate from Eastern Michigan University with a degree in Communications and Video Production. During the Stanley Cup Playoffs, he can also just focus on one opponent at a time in order to beef up the scouting report on every player on the opposing team.
The Flyers were noticeably better in Game 2, out-shooting the Bruins, 54-41, but were still on the short end of a 3-2 overtime defeat. Still, the effort and jump were evident and that's something on which the coaching staff and players can certainly build.
Patterson was promoted to his current position as the team's video coach in 2009 after serving six years as the Flyers video coordinator. He spent two seasons in the same capacity for the Flyers' American Hockey League affiliate, the Philadelphia Phantoms, and won a Calder Cup with the club in 2005.
In the two years Patterson has worked closely with the Flyers as their video coach, he's noticed a positive connection between the coaching staff and players while preparing for a game following a disappointing loss.
"We don't like to dwell on the negative stuff here but sometimes after a game like that (Game 1), it's good to take a few things apart … it's a good teaching lesson and I think our team usually responds really well," Patterson said. "This is a veteran group and, after last year's run and from a coach's standpoint, we've seen what works and doesn't work with these guys."
Patterson recalled the video session he conducted with the coaches and players following the team's 5-1 loss to the Montreal Canadiens in Game 3 of the 2010 Eastern Conference Finals. He admitted the session he had with the team on Sunday following their 7-3 defeat to Boston was eerily similar.
"I still remember talking with the coaches between Games 3 and 4 of the Canadiens' series last year," Patterson said. "We were bad in Game 3 and we brought all the guys in and did a 15-minute talk -- a lot of it discussing the bad things.
"We weren't trying to embarrass guys, but they needed to know what we were trying to do and the guys really tightened up and brought their focus in a little bit (in a 3-0 victory in Game 4)."
It isn't always serious in the video room, though. In fact, Laviolette likes to keep things light more often than not in attempt to keep the players loose. One time, Patterson discovered a clip of a player from a men's league in Quebec using his stick to "tomahawk" a player over the head on the opposing team -- certainly something you don't see very often.
"It was the most blatant tomahawk you'd ever see and we just kept watching it and laughing and Lavi said to throw it in at the start of the meeting, so I did," Patterson said. "It just kind of gets the guys loose. Lavi told them you might want to avoid something like this tonight and we played the clip four of five times and the guys loved it. It's a way to just kind of keep things real and light for the guys."
Follow Mike Morreale on Twitter at: @mike_morreale