Philadelphia Eagles TE Brent Celek on Zach Ertz: Our team needs him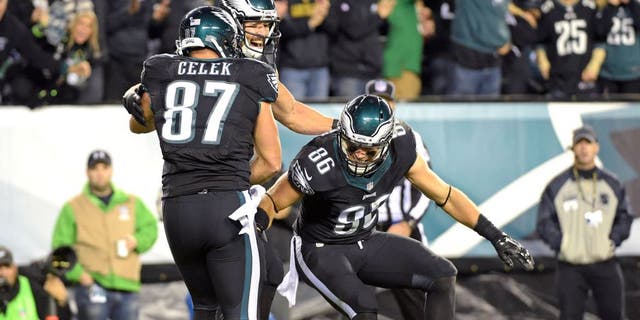 NEWYou can now listen to Fox News articles!
If you expected Philadelphia Eagles tight end Brent Celek to be anything other than cordial toward Zach Ertz, then you haven't been following Celek's career. The former fifth-round pick has been a consummate professional since the day he entered the league.
Although Ertz is making strides to become an elite tight end, and his progress could jeopardize Celek's role within the offense, Celek remains a good teacher and teammate to Ertz.
"I'm going to do everything I can to help Zach become as good as he can, because that's going to make us win football games," Celek said, per the Philadelphia Daily Inquirer. "That kid's a talented player. He's a great tight end. And our team needs him. Anything I can do to help him, as well as he grows and I continue to get better, that's the goal. We want to be the best tight end group in the NFL."
Celek played 69 percent of the offensive snaps in 2014, while Ertz was only the field for 50 percent of the snaps. In the Eagles' offensive scheme, head coach Chip Kelly likes to utilize a lot of 11 personnel packages featuring three wide receivers and one tight end. In these packages, Ertz was often the odd man out in 2014.
Going forward, that could change. Ertz' blocking is what kept him off the field for a higher percentage of snaps over the last two seasons. He honed in on blocking this offseason, and dedicated his offseason training to becoming a better blocker. It probably doesn't hurt that he spent time learning from future Hall of Fame tight end Tony Gonzalez either.
The Eagles' tight end position will be a very interesting one to chart during training camp. Many are predicting the Ertz breakout in 2015, but first, he will have to prove that he belongs on the field over Celek. That's a much more difficult task than most people realize.
(h/t Philadelphia Daily Inquirer)