Phelps ties for 3rd-quickest in 200 fly prelims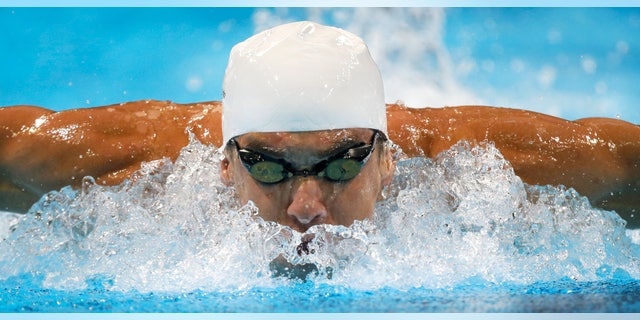 NEWYou can now listen to Fox News articles!
OMAHA, Neb. – Michael Phelps had the spotlight to himself at the U.S. Olympic swimming trials on Wednesday, qualifying third-fastest in the 200-meter butterfly while rival Ryan Lochte took the morning off.
The world's top two swimmers won't be apart long. Phelps and Lochte are set for another showdown in the 200 freestyle final in the evening.
Phelps first had to get through the 200 fly prelims, and he moved on to the evening semifinal in a third-place tie with Thomas Luchsinger at 1 minute, 57.75 seconds.
Bobby Bollier, who trains at Stanford, led the way in 1:56.69. Tyler Clary, who missed a spot on the U.S. team when he finished third behind Lochte and Phelps in the 400 individual medley, was second at 1:57.23.
Phelps, who has yet to beat Lochte in two head-to-head matchups so far at trials, won't swim his 200 fly semifinal until after he and Lochte meet in the 200 free final, allowing both swimmers to come in rested.
Missy Franklin advanced to the semifinals of the 200 freestyle. The 17-year-old from Colorado had the third-fastest prelim time of 1:58.62. Allison Schmitt and Dana Vollmer, both already on the U.S. team for the London Games, were first and second.
Schmitt was fastest at 1:58.02 and Vollmer touched in 1:58.34. Also moving on to the evening semifinals was Elizabeth Beisel, who was 13th.
Katie Hoff is looking doubtful to make her third straight Olympics after finishing 20th. Her time of 2:00.58 was 0.32 seconds off the 16th and last spot for the semis. She failed to advance out of the 400 free prelims a day earlier. Her only remaining event is the 800 free on Saturday, and Hoff said she's not sure she'll swim it.
After feeling sick on Tuesday, Hoff said she was able to eat on Wednesday.
"They told me I had a stomach virus or something like that, but I don't want to make excuses," she said. "It just wasn't there."