PG plays it down the middle as Kimmel woos Pacers star westward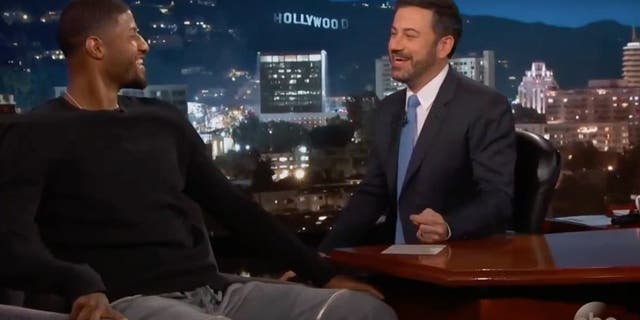 Jimmy Kimmel put the full-court press on Paul George on Mondaynight.
The Indiana Pacers' All-Star forward was a guest on Jimmy Kimmel Live!, a late-night show based in Los Angeles. About halfway through the seven-minute interview, Kimmel steered the conversation toward the possibility of George, who can opt out of his contract with the Pacers after next season, playing for the Lakers, his hometown team.
The host, a Lakers fan, showed a clip of an interview from the show in April in which Magic Johnson, an executive with the team for whom he became a Hall of Famer, takes a "wink-wink" approach to signaling an interest in acquiring George's services. When Kimmel asked George if thatwould have an impact on him, PGplayed it right down the middle.
"No, man," he said. "I love Magic. I love Magic. Great dude."
"Good, you're going to be working for him," Kimmel quipped.
Georgetalked about getting ready to work out this summer with Kobe Bryant ("I'm training now to get ready to work out with him") before Kimmel said he hoped the former Laker star would tell George to play for the Lakers.
"People in Indiana, this is the worst-case scenario for them, right?" Kimmel asked.
"It is. I love Indy, though, man," Georgereplied. "It's really hard."
So, no change in George's status with the Pacers, other than knowing a late-night host in La La Land is pushing hard for him to head home. And the Pacers still mustdecide how they want to address their star's future this offseason.