PFF: Teddy Bridgewater was NFL's most accurate passer in 2015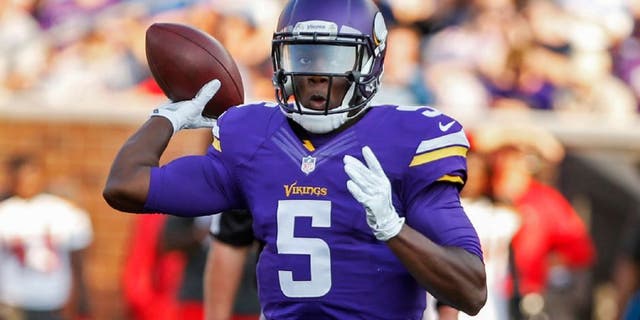 Minnesota Vikings quarterback Teddy Bridgewater showed some significant improvement in his second NFL season. Although he's still a game-manager for an offense that's powered by All-Pro running back Adrian Peterson, Bridgewater keeps the chains moving with his accurate arm.
In fact, Pro Football Focus (PFF) found him to be the league's most accurate passer in 2015 with an "accuracy percentage" of 79.3.
Via PFF on Twitter:
PFF's unique accuracy percentage is different than traditional completion percentage. It counts dropped passes as accurate attempts and excludes throwaways, spikes, passes batted at the line and released while being hit. As a result, accuracy percentage is typically much higher than completion percentage.
When analyzing quarterbacks by completion percentage, Bridgewater posted the NFL's ninth best rate at 65.3 percent -- almost a full percentage point higher than his rookie rate. His accuracy is more a result of his safe style of play than it is a laser-sharp arm. This is evidenced by his average of 7.23 yards per attempt, which ranked 17th in the league.
As Bridgewater gains experience, he will take more risks and his accuracy may drop off a bit. If that happens, it will be a sign of progression rather than regression.