Peyton still has chance to go out on top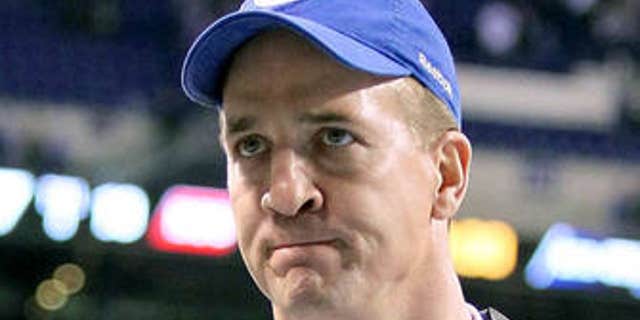 There are 23 quarterbacks in the Hall of Fame, 24 if you count the inevitable first-ballot inclusion of Brett Favre. Five of them finished their careers on teams other than those with which they became famous. None of them qualify as happy endings.
You recall Favre's ignominious finale with the Minnesota Vikings. Less quickly remembered is Warren Moon. In his last two seasons with the Kansas City Chiefs, Moon appeared in three games, completing all of 16 passes.
Anyone heard of Johnny Unitas? He had a quarterback rating of 40 in his last four starts, those for the San Diego Chargers.
Joe Namath's career came to a close on a Monday night in Chicago, as a member of the Los Angeles Rams. He left the game with two minutes left, clutching his throat after a late hit. Namath was 16 of 40 with four interceptions.
"We were letting the quarterback call the plays," said Rams coach Chuck Knox, a Namath fan since coaching against him in junior high. "Joe saw some things he thought he could hit."
Therein lies a warning for Peyton Manning. The Indianapolis Colts have let him call the shots for the past 14 seasons. In fact, no franchise in the history of professional football has granted a player such all-encompassing discretion and control. Not only was Manning a franchise quarterback, he was the Colts de facto offensive coordinator as well, a dual role that made him a more formidable figure than either of his head coaches: Jim Caldwell, or even Tony Dungy.
For 13 of those 14 years, the Colts did well to leave everything to Manning. But now the time has come for the quarterback to admit -- if only to himself -- what his predecessors could not. What served him so well (not to mention the Colts and the city of Indianapolis) now blinds him.
His career may not be over, but the end has certainly begun. And now that it has, Manning's very toughness stands to become a liability. The flip side of his fanatical self-belief -- the very basis for The Peyton Rules -- is mere hubris.
There's never been another Peyton Manning, who is, among his many other virtues, a great student of the game. Still, he seems doomed to repeat the mistakes of great quarterbacks past.
By now you've probably realized I didn't mention Joe Montana. That's because the circumstances behind Montana's third act and Manning's are less than comparable. After leaving the 49ers, Montana had two seasons in Kansas City. There was no championship, as he had hoped, but he twice led the Chiefs to the playoffs. If Montana wasn't what he had been, he wasn't bad, either.
Then again, he had time to heal. He sat out all of 1991, and didn't play until the last game of the 1992 season, a Monday night that saw him go 15 for 21 with two touchdowns in a victory over the Lions.
Manning, on the other hand, offers no proof that he's healed, or at least, healed well enough to be a semblance of his former self. It's worth noting he's been less than forthcoming on the state of his health. All that's really known is that he's had four surgeries to the right side of his neck in the last 19 months (this bit of information from SI.com's Don Banks). He also wants his $28 million bonus paid in full March 8, 16 days before his 36th birthday.
"We can make it work if he wants to be here," Colts owner Jim Irsay said the other day. "We'd be excited to have him back and finish his career with us."
In other words, Irsay wants to renegotiate the bonus. The response was predictable, beginning with former Giants linebacker Antonio Pierce, who called Irsay's public position "a cowardly move."
There's been a lot of posturing and politicking here. Both sides are playing to the crowd. But cowardly ?
Look, I'm not crazy about owners, but other than over-tweeting, what, exactly, did Irsay do wrong? He made a lot of money on Manning, sure. But why should he gamble $35 million (the bonus, plus salary) against prohibitive odds when he has a potentially great quarterback with the first pick in the draft? To pay Manning in full is to neglect his fans and his franchise, which, as a result of the Peyton Rules, is in desperate need of rebuilding.
This is a play the quarterback shouldn't get to call.