Peyton Manning lost a thrilling game of egg roulette to Magic Johnson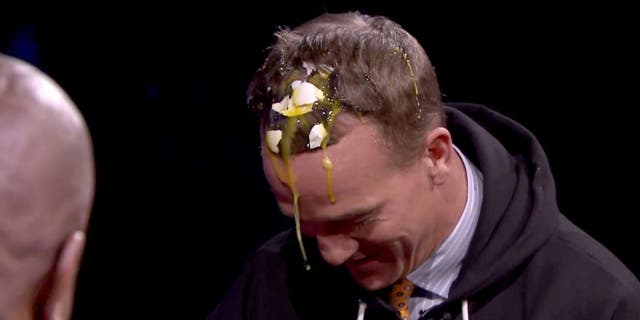 Super Bowl 50 champion Peyton Manning stopped by Jimmy Fallon's show on Wednesday night, where he discussed the Super Bowl and explained that Eli's emotionless stare is a reaction Peyton has been getting all his life.
Magic Johnson was also in the house, and Fallon got the two legends to do something only he could: smash raw eggs on their heads for fun.
Peyton and Magic played a game of Egg Russian Roulette where they were presented a dozen eggs, with some cooked and some raw. They had to take turns randomly choosing an egg and smashing it on their heads. The first guy to smash two raw eggs on his head loses.
It was as intense and thrilling as it sounds, and although Peyton lost, I'm not sure this worked out well for either one. Enjoy the video: