Peyton Manning joins Denver Broncos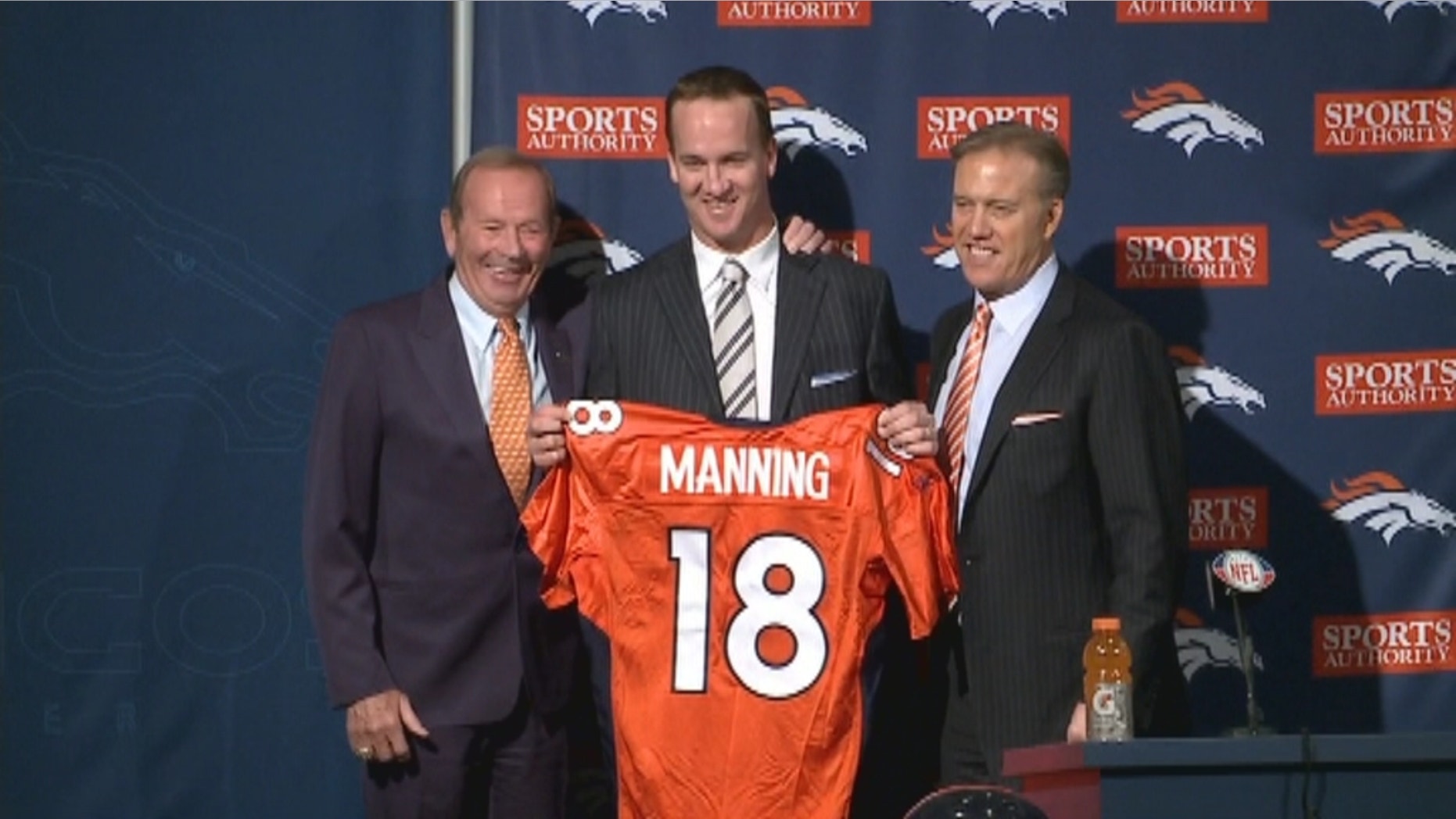 DENVER – Peyton Manning said Tuesday he is "very excited to begin the next chapter of my playing career" after agreeing to a five-year, $96 million contract with the Denver Broncos.
"I can tell this organization is committed to winning. In the end I felt the Broncos were just a good fit," Manning said at a news conference where he announced his signing.
"This is truly a special football environment, and I'm glad to be a part of it."
Manning, who will turn 36 on Saturday, held up an orange No. 18 jersey, thanking former Broncos quarterback Frank Tripucka for allowing the franchise to unretire the number for him.
"It's truly an honor for me," Manning said, adding that he believes retired numbers should stay retired but that 84-year-old Tripucka convinced him he should wear it.
The four-time MVP's new contract will reportedly make him the highest paid NFL player, with an average annual salary of about $19 million. The deal comes less than two weeks after Manning was released by the Indianapolis Colts.
Manning, who missed all of the 2011 season following a fourth neck surgery, admits he still has work to do to return to the form he showed before the operations.
"I'm not where I want to be. I want to be where I was before I was injured," he said, adding he is encouraged by what doctors have told him about his progress to this point.
Manning said he could play this Sunday if there was a game, but acknowledged he probably could not perform up to his usual standards.
"I don't consider it much of a risk," said Broncos executive vice president of football operations and former star quarterback John Elway, who said team doctors "felt great" after examining Manning.
With the future Hall of Famer as the new starter, the Broncos are reportedly looking to trade last year's starter, Tim Tebow.
Manning praised the wildly popular 24-year-old, but said he has not spoken to him yet.
"If Tim Tebow is here next year, I'm gonna be the best teammate I can to him," said Manning, calling Tebow a "great player and a great guy."
Tebow, a fan favorite even before he became the starter, led the Broncos on an improbable run to the AFC West title and a playoff victory over the Steelers last season.