Peyton Manning admits maybe he shouldn't have played in Week 10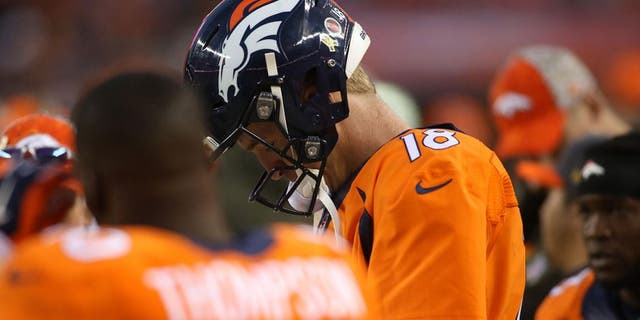 Peyton Manning fought through injuries, but couldn't give his team a fighting chance in Week 10. Chris Humphreys USA TODAY Sports
Peyton Manning wanted to suit up, despite a sore foot and a bruised-up ribcage.
That choice might've cost the Broncos a shot at a Week 10 win. The quarterbacking legend could barely throw downfield in a mistake-marred, four-interception outing against the Chiefs.
It gets worse for "The Sheriff." He completed only four first-half passes for just 30 yards passing.
Head coach Gary Kubiak, who said he regretted playing Manning on Sunday, had no choice. He yanked No. 18 and put in his younger understudy, Brock Osweiler.
The damage was dealt by then. The opponent was up in a multi-score blowout, and Manning has perhaps never been lower.
(h/t Denver Broncos on Twitter)