Pettis, Alvarez 'welcome' Conor McGregor's arrival at lightweight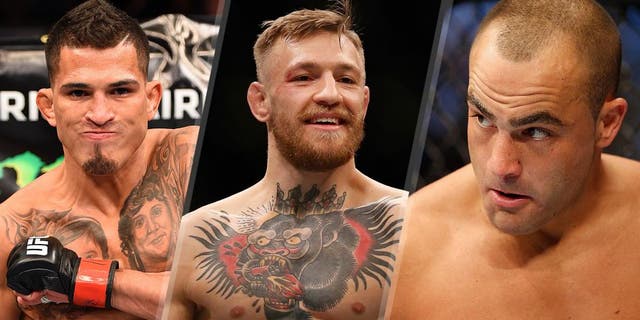 Conor McGregor will likely pursue his goal to become a two-weight-class champion with his next fight, and even two contenders who he likely leapfrogged over to get his title shot aren't really complaining about his arrival.
McGregor is expected to face Rafael dos Anjos at UFC 197 one fight after winning the featherweight title from Jose Aldo at UFC 194 this past December. If McGregor officially gets the shot, he will slingshot in front of everybody else already ranked at lightweight, including former champion Anthony Pettis and Eddie Alvarez, who are set to do battle at the FS1 UFC Fight Night event in Boston next weekend.
At one point before he was champion, Pettis was actually scheduled to go down to 145 pounds to face Aldo for the featherweight title, so he really can't complain about what McGregor is doing by moving up a division and earning an immediate shot at the belt.
"I was going to move down to 145 and fight Jose Aldo when I was the No. 1 contender, so I guess the champion moving up to fight the champion makes sense," Pettis said on Friday during a media conference call.
"I feel like the lightweight division's always been marketable. We have some great champions, we have some great guys that came out of the division. It's not based on just talk, it's based on performance. I think the division's always been a tough division. The 145 division was dominated by Jose Aldo the whole time, so you got a guy that takes out Aldo and he moves up a weight class, of course everybody's going to want to watch it. I welcome it. Hopefully he stays and we see how good he really is."
Alvarez feels much the same way and even takes it a step further to say that really nobody has any right to complain about the opportunities that McGregor is afforded because his arrival only signals one thing -- more money coming to the division and that's good for everybody.
"I think anything or anybody who brings more money to the sport is a good thing. It's hard for me to say anything bad about it," Alvarez stated. "Regardless of whether people think he deserves this or he deserves that, the truth is when one fighter gets paid more, it's good for all of us. Every, single one of us.
"So I'm happy he brings marketability to the division and it's not up to me or any fighter to say what he deserves or doesn't. Our bosses make that decision no matter how we perform out there. Happy to see money coming in."
Heading into next weekend it appeared on paper that the winner of Pettis and Alvarez could be next in line for a title shot, but that disappeared with the rumored bout between McGregor and dos Anjos.
Alvarez isn't exactly angry about McGregor getting a title shot, although he is curious why the new featherweight champion is leaving the division ahead of potentially the toughest matchup he could face at 145 pounds.
"Right now it seems like Conor's able to make his own decisions and there's nothing nobody on this conference call's going to be able to do about that. So I can either cry and whine about it or just deal with what's in front of me right now," Alvarez said.
"I do think it's convenient that there's one guy left, the elephant in the room that's Frankie Edgar, and he decides he wants to do something different besides stay in that weight class and fight the next guy who's entitled to the shot, but good for him."
As for Pettis, he's not addressing anything about a potential title shot or what comes next after Alvarez because that's the only obstacle standing in front of him right now.
"Honestly, I haven't even looked forward to the next fight. My goal right now is to beat Eddie Alvarez," Pettis said. "I've got a tough opponent in front of me, whatever happens after that is based on what I do in this fight. I'm 100-percent focused on my fight coming up next weekend."