Perry takes MVP in 2010-11 fantasy hockey awards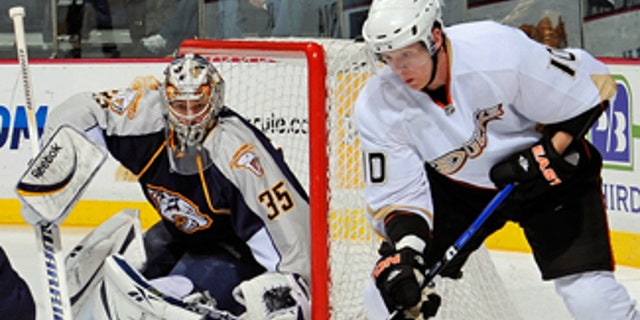 Coming into the 2010-11 NHL season, NHL.com ranked Daniel Sedin No. 12 overall, Corey Perry No. 21 and Tim Thomas didn't even crack our top 150 because we were all expecting Tuukka Rask to run with the starting job based on last year's performances. Well, six months later, Sedin, Perry and Thomas rank as the top three overall fantasy players in standard Yahoo! Fantasy Leagues at season's end.
Every season we see tons of surprise players and breakout performances, and even some disappointments, but this season may have seen more than the usual. Who could have predicted Thomas to resurrect his career with one of the most outstanding goaltending performances ever; or that Alex Ovechkin would finish with just 32 goals -- the lowest total of his six-year career (14 fewer than his previous low of 46 goals back in 2006-07); or that Dustin Byfuglien would finish as the top-ranked fantasy defenseman in just his first season as a full-time blueliner; or that Perry and Ryan Kesler would be two of the five 40-plus goal-scorers along with Steven Stamkos, Daniel Sedin and Jarome Iginla.
It's likely that no one saw any of these surprises coming -- it's the beauty of sports, and fantasy sports: the unlikely and the unpredictable. What would be the point in participating in fantasy games if we knew the outcome? The thrill and excitement of not knowing how the players we draft on our team are going to perform is why we follow their statistics for the entire season. It's an escape from the real world and an opportunity for us to feel like real NHL GMs.
With that said, here's a look at NHL.com's 2010-11 Fantasy Hockey Awards. From the MVPs at each position to the surprises and underachievers, these are the players that either made you a proud manager, or one left wondering how to improve for next season.
Here's a look at our Mid-Season Fantasy Awards.
Fantasy MVP: Corey Perry
Honorable Mention: Daniel Sedin, Tim Thomas
At mid-season, Sidney Crosby was the clear-cut runaway MVP, but because of his injury, he unfortunately appeared in just 41 games this season. Enter Corey Perry. The Ducks forward takes the honor because of his uncanny ability to do what no one else can come close to: outstanding production in all six fantasy categories. Perry totaled 50 goals, 48 helpers, a plus-9 rating, 31 power-play points, 290 shots on goal, and here's the kicker: 104 penalty minutes. In standard Yahoo! Leagues, only Milan Lucic had more penalty minutes, with 121, than anyone ranked among the top-50 overall players. Whether it was shorthanded, on the power play or at even strength, Perry thrived this season -- he improved in each offensive category except assists (he had 49 in 2009-10). At just 25 years old, Perry should be a fixture among the top-five fantasy player for years to come.
Surprise player of the year: Dustin Byfuglien
Honorable Mention: Tim Thomas, Ryan Kesler
Byfuglien was the surprise player of the year at the midway point of the season, and earns the honor now as well. The Thrashers defenseman stunned the entire fantasy world with his blue line heroics and outstanding numbers: 20 goals, 53 points, 93 penalty minutes, 25 power play points and a mind-boggling 347 shots on goal. Only Alex Ovechkin -- a FORWARD -- had more shots on goal than Big Buff, who finished with 83 more than Zdeno Chara, the next highest total among d-men. What's even more rewarding for fantasy owners was the fact that he was drafted on average at pick No. 132.4 in standard Yahoo! Leagues and only drafted in 54 percent of total leagues. By season's end, he finished as the 22nd-ranked overall fantasy player and the highest defenseman. He simply did it all for his owners this season and will likely be one of the top five blueliners drafted next season.
Underachiever of the year: Duncan Keith
Honorable Mention: Martin Brodeur, Ilya Kovalchuk
Several players had less than stellar seasons based on expectations (see Ryan Miller, Marian Gaborik, Dion Phaneuf), but none of them struggled more than Duncan Keith. After winning the Norris Trophy last season, Keith struggled right out of the gate in 2010-11 with no goals in his first 12 contests. Keith finished the campaign with just 7 goals and 45 points after posting career-bests of 14 goals and 69 points in 2009-10. Not only did he struggle with points, but he also saw his plus/minus drop from a plus-21 to a minus-1 rating, his PIMs decreased from 51 to 22 and his shots on goal fell from 213 to just 173 -- all of this while appearing in all 82 games for the Hawks. Selected at an average pick of 22.1 prior to the season in fantasy drafts, Keith finished as the 156th ranked fantasy performer and 21st among d-men. Here's hoping the 27-year-old reverts back to his numbers from two seasons ago for next year.
Comeback player of the year: Milan Lucic
Honorable Mention: Teemu Selanne, Justin Williams
After posting just 9 goals and 11 assists in only 50 games in 2009-10, Boston's Milan Lucic bounced back incredibly this season with career-highs in goals (30), assists (32), plus/minus (plus-28), power play goals (5), power play assists (9) and shots on goal (173). Lucic appeared in 79 of the Bruins' 82 games this campaign and finally translated his playing time into high-end production. While Lucic's 121 penalty minutes weren't a career-high, they were the most of any player ranked in the top 50 in standard Yahoo! Leagues -- only Corey Perry had more goals and points of any player with over 100 penalty minutes this season. Lucic proved that if he can stay healthy, he should be one of the best all-around fantasy players going forward.
Rookie standout of the year: Logan Couture
Honorable Mention: Jeff Skinner, Corey Crawford
The San Jose sensation had an outstanding rookie season and posted 32 goals and 24 assists to go along with a plus-18, a solid 41 penalty minutes, 14 power-play points and 253 shots -- which ranked 24th among all NHL players. His 56 points were second only to Jeff Skinner's 63, but because of Couture's solid peripheral numbers, he actually finished higher in the Yahoo! Fantasy ranks at No. 51 overall (Skinner was No. 61). Couture, who was undrafted in nearly all leagues, will hopefully build off his impressive rookie season and should become a household name in fantasy leagues for many years.
Breakout player for next year: P.K. Subban
Honorable Mention: Ryan Callahan, Sergei Kostitsyn
P.K. finished the season with 14 goals (which ranked sixth among all NHL defensemen), 38 points, 197 shots on goal (which ranked eighth among all NHL d-men) and an astonishing 124 penalty minutes (which ranked third among all NHL d-men). That's quite an impressive stat line for any player, let alone a rookie blueliner. While Subban had a tremendous rookie season in Montreal, there appears to be even more room for him to grow as a fantasy superstar -- he has all the makings: great shot, good vision, a nasty edge and plays for a solid team. He struggled early on in his NHL career with just 11 points in the first three months of action, but after the new year, Subban seemed to get his head on straight and turn his season around. As long as he plays a smart game, there's plenty of reason to believe that Subban can finish as a top-10 fantasy defenseman next year, and maybe even as high as a top-5 guy.
MVP -- Center: Steven Stamkos
Honorable Mention: Ryan Kesler, Henrik Sedin
Just Missed: Jeff Carter*, Jonathan Toews
MVP -- Left Wing: Daniel Sedin
Honorable Mention: Alex Ovechkin, Henrik Zetterberg*
Just Missed: Bobby Ryan*, Milan Lucic
MVP -- Right Wing: Corey Perry
Honorable Mention: Jarome Iginla, Martin St. Louis
Just Missed: David Backes, Danny Briere
MVP -- Defense: Dustin Byfuglien
Honorable Mention: Lubomir Visnovsky, Zdeno Chara
Just Missed: Nicklas Lidstrom, Keith Yandle
MVP -- Goalie: Tim Thomas
Honorable Mention: Pekka Rinne, Henrik Lundqvist
Just Missed: Roberto Luongo, Carey Price
*dual position eligibility in Yahoo! Fantasy Leagues
Contact Matt Cubeta at MCubeta@nhl.com