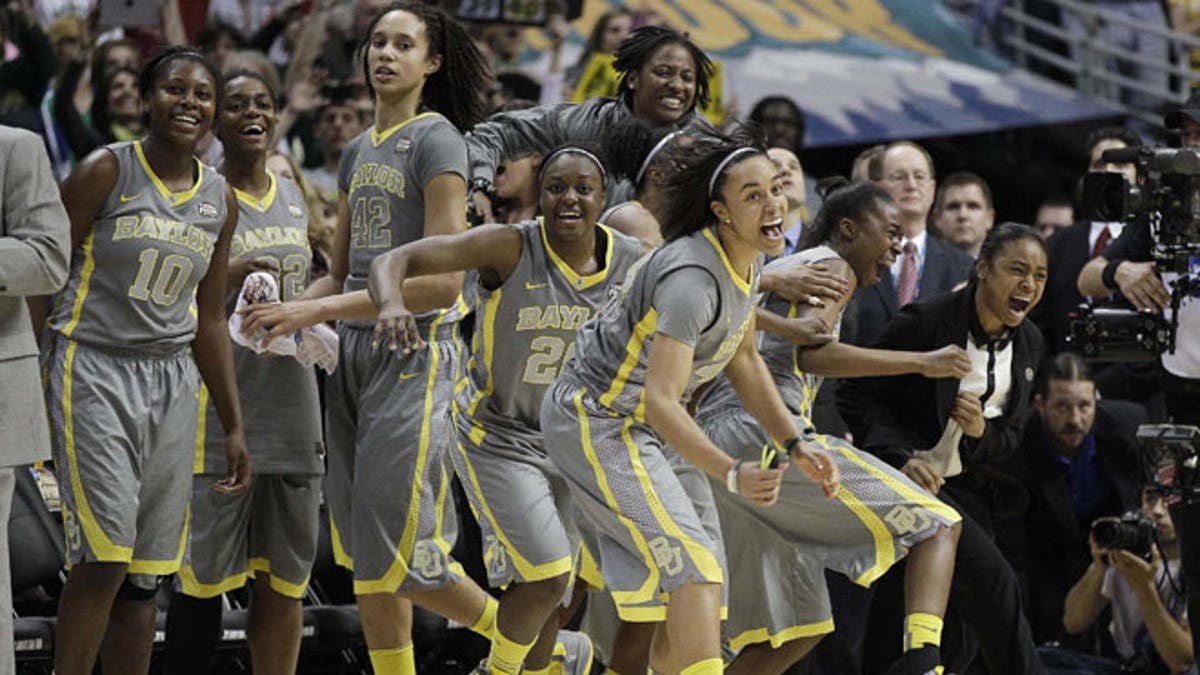 Brittney Griner came up big for Baylor, scoring 26 points and grabbing 13 rebounds to help the Lady Bears finish off an undefeated season with an 80-61 win over Notre Dame in the national championship game Tuesday night.
Baylor became the first team in NCAA history to win 40 games. Even more important to the Lady Bears, the team cut down the nets for the first time since 2005.
For the Fighting Irish (35-4), a second straight trip to the title game ended in heartbreak. They lost 76-70 to Texas A&M last season.
Odyssey Sims chipped in 19 for the Bears, while Destiny Williams added 12.
The Irish cut a sizable deficit to three points early in the second half, only to have Devereaux Peters called for an illegal screen, which was her fourth foul. With Peters on the bench, the Bears built their lead back up by dumping the ball into the 6-foot-8 Griner, who showed off her wide array of shots as she arched hooks and jumpers over the smaller Irish players.
From there, the Bears went on a 33-11 run to seal the title.
Griner scored 17 of her points in the second half, even with two, sometimes three, defenders hounding her at all times.
Notre Dame was led in scoring by Skylar Diggins, who had 20 points. Natalie Novosel, one of the top Irish scorers, had a rough night. She finished 0 of 11 with five points.
The teams met in the preseason WNIT final on Nov. 17, with the Lady Bears winning in Waco, Texas, 94-81 behind Griner's gem of a game when the junior center scored 32 points, grabbed 14 rebounds and blocked five shots.
This time, the stakes were much higher -- and Griner responded again.
All season long, both Baylor and Notre Dame have focused on the slogan "Unfinished Business." Griner & Co. even have wristbands with the phrase on it. Coach Kim Mulkey said the team used the same motto the year the Lady Bears won their only championship.
The senior-laden Irish came a game short, again, of being the first Notre Dame team to win the women's crown since 2001.
Baylor is the seventh women's team to go through a season unbeaten, but the first in the NCAA-era to go 40-0.
Before the game, Griner entertained the crowd with a series of dunks, including a one-handed throw down, a double-pump slam and another in which she hung on rim.