Percy Harvin: QB Tyrod Taylor makes Bills 'tremendously dangerous'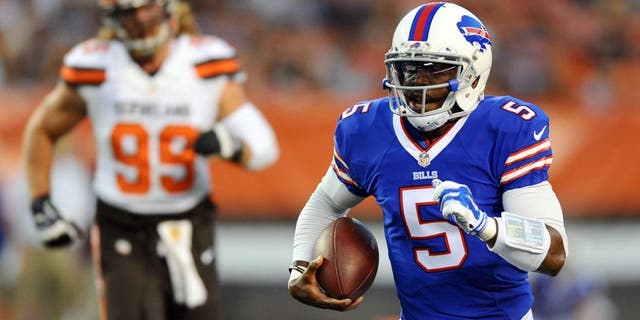 NEWYou can now listen to Fox News articles!
The Buffalo Bills added another wrinkle to their offense on Monday when Rex Ryan named Tyrod Taylor the team's starting quarterback for Week 1.
Taylor is a dynamic dual-threat quarterback with 4.4 speed and a strong throwing arm, which gives opponents that much more to prepare for when playing the Bills. Game-planning for a running quarterback is a defensive coordinator's nightmare, and the Bills are well aware of that fact.
Taylor's teammates, particularly on offense, are excited to have his talent and ability on the field for Week 1. Wide receiver Percy Harvin thinks Taylor will make the Bills really tough to prepare for.
"He's going to be tremendous for this team," Harvin said via the Buffalo Bills' website. "With the weapons that we already have I think teams have to worry about that, but now they have to worry about his legs too with the 4.4 speed he puts on the field I think is going to be tremendously dangerous for opponents to prepare for us."
Of all Taylor's teammates, Harvin may be the most familiar with his game. Harvin and Taylor grew up in Virginia, so Harvin knows what he's capable of.
"He didn't surprise me," Harvin said. "I've been watching T-Rod since we were growing up back in Virginia. So I've known what he's been able to do. I followed him when he was at Baltimore so I was looking forward to him getting the opportunity and for everybody else, the rest of the team see what he can do as far as arm strength-wise and his accuracy.
"I think people are now starting to see his accuracy, his ability to read coverages and just his craftiness of just knowing the game."
Taylor obviously has the needed support from the coaching staff and Bills players -- he just needs to play the way he has in the preseason. The Bills are talented at several spots on the depth chart, both on offense and defense, with the quarterback being one of the few question marks. And with Taylor's running ability, he should be able to help the Bills' weak offensive line by making plays outside of the pocket.
(h/t Buffalo Bills)