Peralta where he belongs, in lineup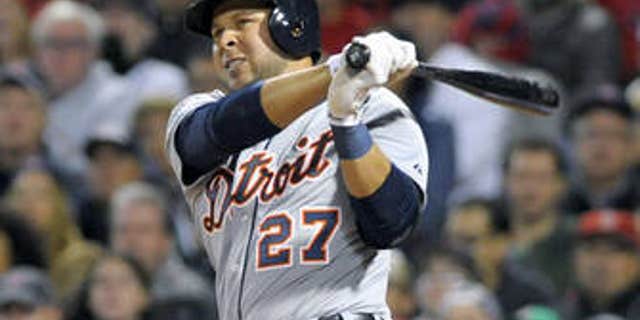 BOSTON – Three thoughts on the Detroit Tigers' long, dramatic 1-0 victory over the Boston Red Sox Saturday night in Game 1 of the American League Championship Series:
1. Sorry, Jhonny belongs.
I know some fans are upset that the Tigers' Jhonny Peralta is playing in the postseason after serving a 50-game suspension for violating baseball's drug policy, but he did his time, fulfilled his punishment. Peralta and the Tigers are operating completely within the rules.
If you don't think the penalties are harsh enough, direct your complaints to the commissioner's office and the players' union, which operate the Joint Drug Program.
And if you don't think the Tigers should have welcomed back Peralta, then you're blind to the pragmatic, win-at-all costs nature of professional sports -- which governs every team.
Peralta, 31, has been a member of the Tigers since 2010. As right-hander Justin Verlander told me in a postgame interview on Fox Sports Live, the players consider him part of their family.
And right now, incredibly, Peralta is the Tigers' best hitter.
The guy missed 50 games, and somehow his timing did not suffer. He went 3-for-12 in the final three games of the regular season and is -- ahem -- 8-for-16 with three doubles and a three-run homer in the postseason.
Peralta started in left field in Game 1 and had only one ball hit to him. Manager Jim Leyland plans to start him at shortstop in Game 2.
Leyland need not apologize. The Tigers need not apologize. Peralta has every right to be on the field.
2. Anibal Sanchez was one thing, but the Tigers' bullpen?
The Red Sox actually were pleased to drive Sanchez out of the game after six innings and 116 pitches. Never mind that they had no hits at the time; they expected to break through against the Tigers' bullpen, which ranked 11th out of 15 in the American League in opponents' OPS during the regular season.
So much for that plan.
Al Albuquerque threw 93 to 95 mph with a swing-and-miss slider. Jose Veras threw 95-96 with a swing-and-miss curve. Lefty Drew Smyly retired David Ortiz, who had been 3-for-4 with a home run against him. And closer Joaquin Benoit earned the save after Daniel Nava ended the no-hitter with one out in the ninth and pinch-runner Quintin Berry stole second with two outs.
For all their complaining about plate umpire Joe West, the Red Sox will stand little chance if the Tigers continue to pitch like this. The Tigers came within two outs of no-hitting the Sox, something that hasn't been done at Fenway in 55 years. They combined for 17 strikeouts, tying a post-season record for a nine-inning game.
Right-handers Max Scherzer and Justin Verlander will start Games 2 and 3 for the Tigers, respectively. Crazy as it sounds, it's not difficult to imagine one or both pitching as well or even better than Sanchez, who -- for all his no-hit prowess -- issued six walks.
For the Tigers to win the series, they need their elite performers to perform at elite levels. Sanchez did just that in Game 1. The bullpen's performance was an added bonus.
3. If I were the Red Sox, I would make Stephen Drew a qualifying offer.
No, I'm not saying that just because of Drew's stunning over-the-shoulder grab to rob Prince Fielder with runners on second and third and two out in the ninth inning. I'm saying that because Drew is a solid player, and it wouldn't be the worst thing for the Sox if he accepted the offer and returned on a one-year, $14 million deal.
Frankly, I don't even think Drew would do that -- his agent, Scott Boras, likely would prefer him to land a multi-year deal on the open market. If that happened, fine; the Red Sox would gain a high draft pick as compensation. But if Drew stayed in Boston, the Sox would again be deep on the left side of the infield -- and in a position of great flexibility for other moves.
If I were the Red Sox, I would take the same gamble with first baseman Mike Napoli and make him a qualifying offer, as well. If both Drew and Napoli accepted, the Sox could play Xander Bogaerts at third and trade Will Middlebrooks. If Drew stayed and Napoli bolted, they could try a platoon of Middlebrooks and Daniel Nava at first.
Some Sox fans underrate Drew because he is A) J.D.'s younger brother and B) perceived to be blocking Bogaerts. Yes, Drew is frequently hurt. Yes, he struggles against left-handers. Yes, he is worth closer to his current $9.5 million salary than $14 million.
No matter. The Sox can afford to overpay him, if it comes to that. I'd want either the added depth or the draft pick.