Peppers makes good on promise, shows old spark for Bears with return to dominating ways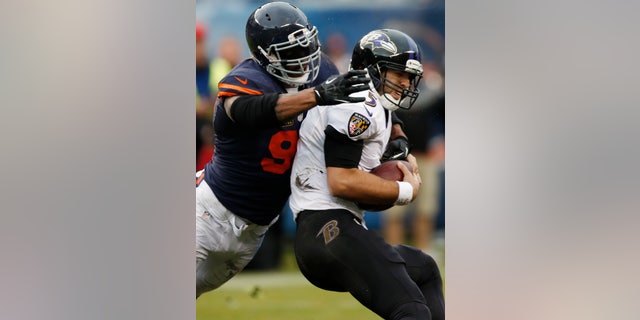 LAKE FOREST, Ill. – Corey Wootton had a feeling Julius Peppers was going to come up big in last week's game against the Ravens.
The eight-time Pro Bowl defensive end had vowed to do just that, and he delivered, sacking Joe Flacco twice in the Bears' overtime victory over Baltimore.
It was what the Bears were accustomed to seeing on a regular basis in recent years. And it was also something Peppers was not delivering.
"He's a guy that takes a lot of pride in his ability, his craft and what he puts on the field," Wootton said.
"We've all been a little disappointed by the production. He told us we need to step up and he said he was going to have a great game. I had 100 percent faith in him that he would — and he did."
Peppers been more of an invisible man this season, but there are signs he's perking up. That's certainly good news for a defense that's struggled through injuries and poor play.
The Bears are tied with Detroit for the NFC North lead at 6-4 heading into this week's game at St. Louis, and if they're going to make a playoff run, an effective Peppers sure would help.
It hasn't been an easy season for him or the rest of Chicago's defense.
Peppers missed some practices in the preseason because of a hamstring injury and battled flu symptoms early in the season.
He got off to a slow start, raising questions about his future in Chicago and whether if at 33 his best days were behind him.
Three times in the first seven games he failed to register a tackle, and he had one sack during that stretch. But in the three games since the Bears' bye, he's looked more like the Peppers of old.
He had a sack and an interception in a win at Green Bay, and after a quiet game against Detroit, he made the Ravens miserable. He doubled his sack total to four and was credited with 11 tackles, easily his season high.
"We've chatted in my office a couple of times, just to catch up on things," coach Marc Trestman said. "I just feel like he's got a lot of pride in this football team. He doesn't want to let it down. He's done everything he can to get himself ready and I think we've managed his practice time very well."
Monitoring Peppers' practice time is one of the ways the Bears are maximizing a defense that struggled from the start and got torn apart by injuries.
Defensive tackle Henry Melton and linebacker D.J. Williams are on injured reserve. Cornerback Charles Tillman won't play again in the regular season. Linebacker Lance Briggs remains sidelined by a shoulder injury.
Defensive end Shea McClellin has missed the past two games with a hamstring injury, and the list doesn't end there.
Defensive tackle Stephen Paea left the Ravens game with a toe injury that's been an issue for much of the season.
He was in a boot and is "very questionable" for this week, Trestman said. And cornerback Isaiah Frey has a broken hand, although Trestman thinks he will be able to play through it.
But even with the injuries piling up, Trestman's confidence in the defense has grown in recent weeks. One positive is Peppers' play.
Chicago still ranks among the worst against the run, and only three teams have fewer sacks than the Bears with 17. But Peppers' recent play is at least a positive sign.
Is it because he's healthier? The Bears wouldn't say that.
"How do I feel? Not as fresh," Peppers said. "This is Game 11, so it's a long season. We just got to adjust, whether it be getting extra treatment, managing practice time or you just got to find what works for you."
At the moment, he's looking a little fresher even if he's not feeling that way.
"Sacks come in bunches," Wootton said. "I expect him to go on a tear. ... I definitely would not be surprised when he has double-digit sacks when it's all said and done."
NOTES: Devin Hester was working with the defensive backs during the portion of practice open to the media, perhaps as a precautionary measure if Frey can't play. Trestman was vague when asked about that, saying, "We try to keep Devin as busy as we can during the course of practice." ... McClellin was a full participant in practice on Wednesday. OT Jordan Mills (quadriceps) and DT Jeremiah Ratliff (groin) were limited, and Frey, Paea and S Craig Steltz (concussion) did not participate. Steltz was injured in a helmet-to-helmet collision with Baltimore's Kyle Juszczyk on the opening kickoff in overtime.
___
AP NFL website: www.pro32.ap.org