Pens want to put Lightning away on first opportunity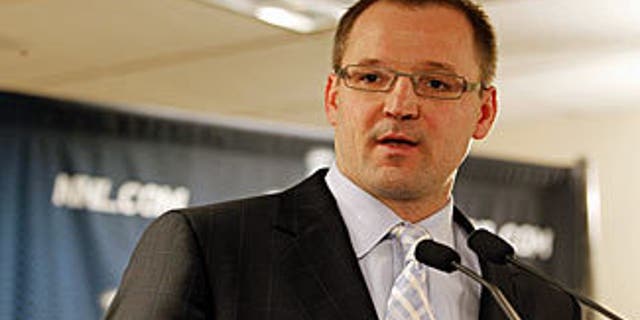 CANONSBURG, Pa. -- Dan Bylsma didn't need to look up his team's home-ice record in potential playoff-clinching games since he took over as the Penguins' coach two-plus years ago.
His son, Bryan, reminded him of it almost as soon as Pittsburgh took a 3-1 series lead against the Lightning by winning Game 4 in overtime 3-2 in Tampa.
"As my son has told me, I'm 0-for in closing at home," Bylsma said Friday.
Make that 0-for-4.
The Penguins couldn't close out Ottawa in Game 5 or Montreal in Game 7 last season, or Washington in Game 6 and Philadelphia in Game 5 in 2009. They recovered to win all but the Canadiens series, yet the Penguins wound up playing extra games they wouldn't have endured if they had taken care of business on home ice.
If there was an underlying theme to the Penguins' practice at Iceoplex at Southpointe in suburban Pittsburgh on Friday, it was this: We've got the Lightning just where we want them. Let's not let them get away.
While home-ice advantage hasn't been much of an edge so far in these Stanley Cup Playoffs -- road teams were 19-14 following Thursday night's games -- Bylsma and the Penguins are welcoming this opportunity.
"Home ice is something you want," Bylsma said. "You want your fans there, you want to be able to have the last (line) change, there's things about home ice you definitely always want to have. But it doesn't guarantee you success in a playoff game. You don't get to move on until you've won four, and neither one of us has gotten there yet."
The Penguins haven't clinched a playoff series at home since they eliminated Atlantic Division rivals Philadelphia and the New York Rangers in successive rounds in 2008. Thanks to their Games 3 and 4 wins in Tampa, they've set up the possibility of their first playoff clincher at Consol.
Pittsburgh will play its 67th playoff game since 2007, compared to 11 for Tampa Bay; only the Detroit Red Wings (79 games) have appeared in more.
To defenseman Brooks Orpik, the Penguins need to exploit this advantage in knowing how to handle almost any type of playoff scenario.
"When you get in certain situations, and you've been in those situations before, you know how to react," Orpik said. "You're not just going into it fresh, and you don't know how you're going to react or your teammates are going to react. I think it's huge.
"It's desperation for them; for us, we don't want to go back to Tampa Bay. That's how we view it. We don't want to give them any life. If you can score early, you put doubts in their heads."
There were doubts before the series began whether the Penguins' power play -- the NHL's worst after Sidney Crosby (concussion) was injured in early January -- was playoff ready. So far, it isn't; Pittsburgh is 1-for-18 (5.6 percent) to Tampa Bay's 4-for-15 (26.7 percent).
Still, it's hasn't made any difference because the Penguins have outscored the Lightning 8-3 in 5-on-5 play.
Lightning star Martin St. Louis has 4 goals and 2 assists in the series, but Steven Stamkos -- who had 91 points during the season -- has been held to a lone assist.
While Lightning coach Guy Boucher owned the last line change in Tampa, the Penguins were pleased he often created the matchups they wanted.
The Penguins' advantage is they have two effective defensive pairings -- Paul Martin with Zbynek Michalek and Kris Letang with Orpik -- to counter the Lightning's St. Louis and Stamkos lines.
While the Bruins, for example, often want to match All-Star defenseman Zdeno Chara against an opponent's top line, the Penguins feel comfortable with either duo against Tampa Bay's dangerous top two lines.
"I think we were pretty satisfied with the matchups we were getting down there. I don't know if it was coincidence or not, but they were kind of putting the matchups we wanted against us," Orpik said. "We haven't been playing a set line. They have those two big lines and we really haven't gotten preoccupied with matching lines, and I think it helps. If you just have one guy on your team who plays against top lines, it's tougher to get him out there."
To goalie Marc-Andre Fleury, whose 1.83 goals-against average is the third-best of the playoffs, the key on Saturday is forgetting it's a possible elimination game.
"We have to keep playing the same way as we did the previous game -- we played the way the coaches wanted us to," Fleury said. "If we keep doing the same, we'll be all right. It's another game and you play for a win. You just try to win. That's it."
Penguins forward Chris Kunitz will return to the Jordan Staal-Tyler Kennedy line after being suspended for Game 4. James Neal, who scored the decisive Game 4 goal in overtime, will be on the Mark Letestu-Alex Kovalev line.
Crosby did not practice Friday, as he has been doing on most off days during this round. He also didn't take to the ice Thursday, a day off for the team. Crosby, whose return to playing status doesn't appear imminent, instead went through an off-ice workout.