Penner back in Edmonton on a playoff push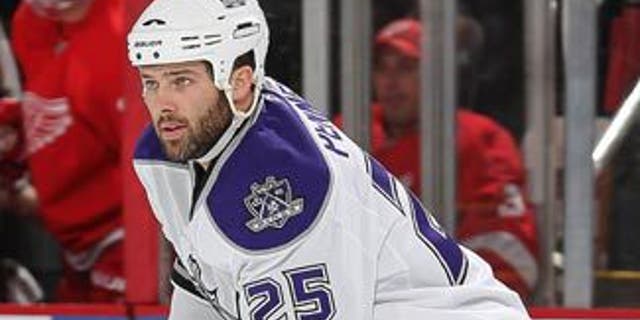 EDMONTON -- Back at Rexall Place a month and a day after being traded to the Los Angeles Kings by the Oilers, Dustin Penner is in the middle of a heated playoff drive. That's something he never experienced in parts of four seasons in Edmonton.
So while Penner still has lots of friends across the rink in the home dressing room, it's that postseason push that'll be his focus when the Kings face the Oilers tonight.
"It still feels a bit like home after spending four years here and seeing all the familiar faces," said Penner, who has 2 goals and 6 points in the 12 games he's played with the Kings.
"It's definitely a weird feeling getting traded midseason and coming back a month later."
Penner, 28, dealt at the Feb. 28 trade deadline for defenseman Colten Teubert, a first-round draft pick in 2011 and a conditional pick in 2012, won a Stanley Cup with Anaheim in 2007.
He hasn't been back in the playoffs since signing a five-year offer sheet with the Oilers that summer. With the Kings sitting fifth in the conference and in a tight Pacific Division race with San Jose, Phoenix and Anaheim, it's all business tonight.
"It's real nice just because of the different focus and intensity you have when you're in a hunt like that," Penner said. "Trying to keep teams away from you at the bottom and trying to catch the teams on top."
With leading scorer Anze Kopitar needing ankle surgery and lost for the balance of the season and Justin Williams also out, Penner will have to play a big role in the remaining seven games.
"I think it falls on more the veteran guys than the younger guys," Penner said. "The veteran guys are used to that kind of pressure."
As popular as Penner was with teammates in Edmonton, the Oilers won't be throwing out the welcome mat.
"We've got a pretty close group of guys," defenseman Theo Peckham said. "Dustin was definitely a good guy here. We wish him the best, but tonight it'll be business as usual.
"There aren't too many guys in the league like him. We'll find out what it's like to play against him. He's 250 pounds, 245, that's a lot of muscle. It'll be a fun challenge."
Last call: Rod Phillips, Edmonton's radio play-by-play man for 37 seasons and a 2003 inductee into the broadcast wing of the Hockey Hall of Fame, will call his last game tonight. This is game No. 3,542 and the final installment in a series of 10 encore games for Phillips, who retired from full-time duty behind the microphone at the end of last season.
Around the rink: With a 5-4 shootout loss to Calgary on Saturday, the Oilers come in on a season-high nine-game losing streak (0-6-3) and are within two losses of the franchise record of 11 straight losses, set during the 1993-94 season. ... The Kings are 7-1-2 in their last 10 games and are coming off a 4-1 win over Colorado on Saturday, the game in which Kopitar was injured. ... The Kings are also without Williams, gone for as long as a month with a separated shoulder. ... The Oilers remain without Ryan Whitney (ankle surgery) Taylor Hall (ankle sprain), Ales Hemsky (shoulder surgery) and Sam Gagner (hand surgery), who are out for the season, as well as captain Shawn Horcoff (ankle). ... Los Angeles won the first three games with the Oilers this season, 3-2, 5-2 and 3-1, and is looking to sweep the season series for the first time since the Oilers entered the NHL in 1979-80.