Penn State trustees speak out to explain Paterno firing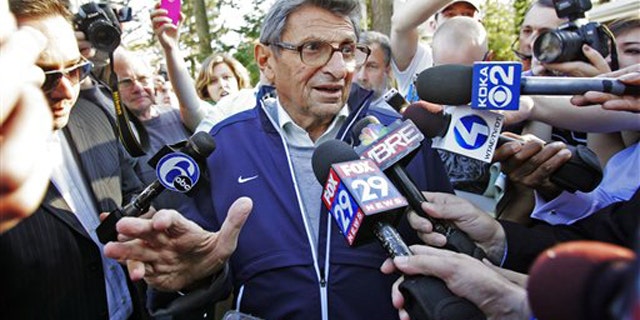 STATE COLLEGE, Pa. – More than a third of Penn State's board of trustees have gone on the record to further explain the controversial firing of iconic football coach Joe Paterno in the wake of the Jerry Sandusky child sex abuse scandal.
The board issued a statement last week defending its decision before university president Rodney Erickson held three question-and-answer sessions with alumni, during which he was met with anger over Paterno's exit.
In an interview published Thursday by The New York Times, 13 trustees outlined the various reasons which led to the board's unanimous decision to dismiss Paterno.
Trustee Kenneth C. Frazier said Paterno's failure to do more when informed about Sandusky's alleged assault of a 10-year-old boy in a football locker room shower, which was cited in last week's statement, "wasn't about guilt or innocence in a legal sense."
"It was about these norms of society that I'm talking about: that every adult has a responsibility for every other child in our community," Frazier said. "And that we have a responsibility not to do the minimum, the legal requirement. We have a responsibility for ensuring that we can take every effort that's within our power not only to prevent further harm to that child, but to every other child."
Paterno was also adjudged to have questioned the board's authority in the early days of the scandal, while some trustees said they felt Paterno was insensitive for being seen to lead "We are Penn State" chants on his home lawn as students gathered to support him following his former defensive coordinator's arrest.
The trustees once again said it was deemed that the 85-year-old Paterno would be unable to effectively continue coaching as the scandal engulfed the program.
The trustees said there was not a single dissenting voice among the 32-person board when it came to ending his 46-year reign as head coach.
The trustees also confirmed Paterno hung up on trustee vice chairman John P. Surma after being informed over the telephone of his firing, before his wife, Sue Paterno, called again. In a brief conversation, she told Surma, "After 61 years, he deserved better," before also hanging up.
The board confirmed last week that Paterno remains employed by the university as a tenured faculty member and that the details of his retirement were being worked out and will be made public when they are finalized.
Sandusky, 67, who served as Paterno's defensive coordinator for more than two decades before retiring in 1999, has pleaded not guilty to sexually assaulting 10 boys over a 15-year period. He could face trial as early as this spring.
Paterno is not accused of criminal wrongdoing in the case.