Penn State to honor late Nittany Lions coach Joe Paterno
NEWYou can now listen to Fox News articles!
Penn State University's plan to honor on Saturday its late football coach Joe Paterno, five years after the school fired him during a child sex abuse case involving an assistant coach, is drawing criticism from victims' advocates.
The pre-game salute will come during the Nittany Lions game against Temple and will mark the 50th anniversary of Paterno's first game as head coach, Penn State's Collegian newspaper reported, citing the athletic department. Paterno died in January 2012.
The decision to honor Paterno, who, according to an investigation conducted by former FBI Director Louis Freeh, attempted to cover up a 2001 child abuse allegation along with others on his coaching staff, is being criticized by victims' advocates.
"I believe it is incredibly insensitive and unfortunately evident that they still have learned nothing about changing the culture on their campus," Jennifer Storm, who serves as a victim advocate for the Commonwealth of Pennsylvania, said in a statement to NBC News.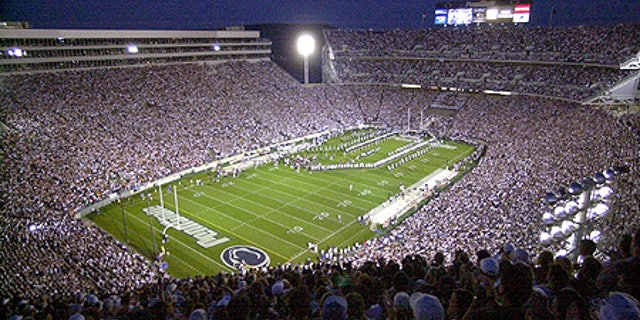 The group Penn Staters for Responsible Stewardship said in a statement that honoring Paterno is a step to "repair the needless damage caused by the unwarranted condemnation of Joe and the entire Penn State community."
In 2012, former Penn State assistant football coach Jerry Sandusky was sentenced to 30 to 60 years in prison after being found guilty of 45 counts of raping or fondling boys he had met through the acclaimed youth charity he founded, The Second Mile. He continues to appeal his conviction.
"The tragedy of this crime is that it's a story of betrayal. The most obvious aspect is your betrayal of 10 children," Judge John Cleland said to Sandusky during the sentencing.
In a disjointed, 15-minute address before his sentence was handed down, Sandusky said: "In my heart I did not do these alleged disgusting acts."
The Sandusky case led to the NCAA vacating 112 of Paterno's wins from 1998 to 2011. Most of the wins were restored last year, the Collegian reported.
Paterno made his debut as the Nittany Lions head coach on Sept. 17, 1966, when the team defeated Maryland 15-7. Paterno won 409 games, had 24 bowl wins, and coached the team to five undefeated seasons (1968, 1969, 1973, 1986 and 1994). Paterno's Penn State tenure (including the 16 years he spent as assistant coach) spanned 61 years.
The Associated Press contributed to this report.