Penguins repeat as Stanley Cup champions with shutout Game 6 win in Nashville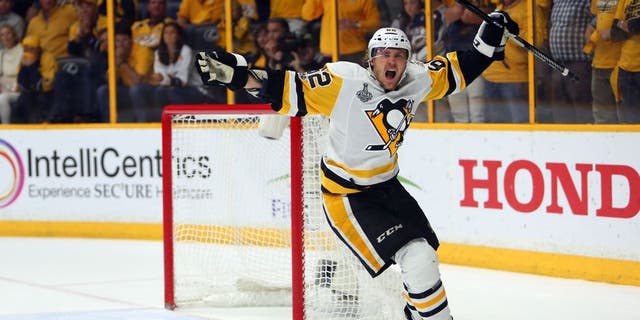 NEWYou can now listen to Fox News articles!
The Pittsburgh Penguins are the NHL's first back-to-back Stanley Cup champions in nearly two decades.
The Penguins earned that distinction with a 2-0 victory in Nashville on Sunday, clinching the Stanley Cup Final, four games to two. Patric Hornqvist's goal with just over a minute and half left in regulation proved to be the game-winner, with Carl Hagelin's empty-netter sealing the deal.
The final game of the season will be viewed by many as a controversial one, as the Predators were robbed of a goal when a referee prematurely blew play dead just before Nashville's Colton Sissons scored what should have been the game's opening tally.Instead, the goal didn't count and the Predators never found the back of the net again.
As a result, it's the Penguins who raise the Stanley Cup for the second straight season, becoming the league's first repeat champions since the 1997-1998 Detroit Red Wings. It marks the third time that the Penguins have won the Cup in the Sidney Crosby era, and the franchise'sfifth championship overall. The Penguins' captain was named the Conn Smythe winner as the playoff MVP for the second consecutive year.