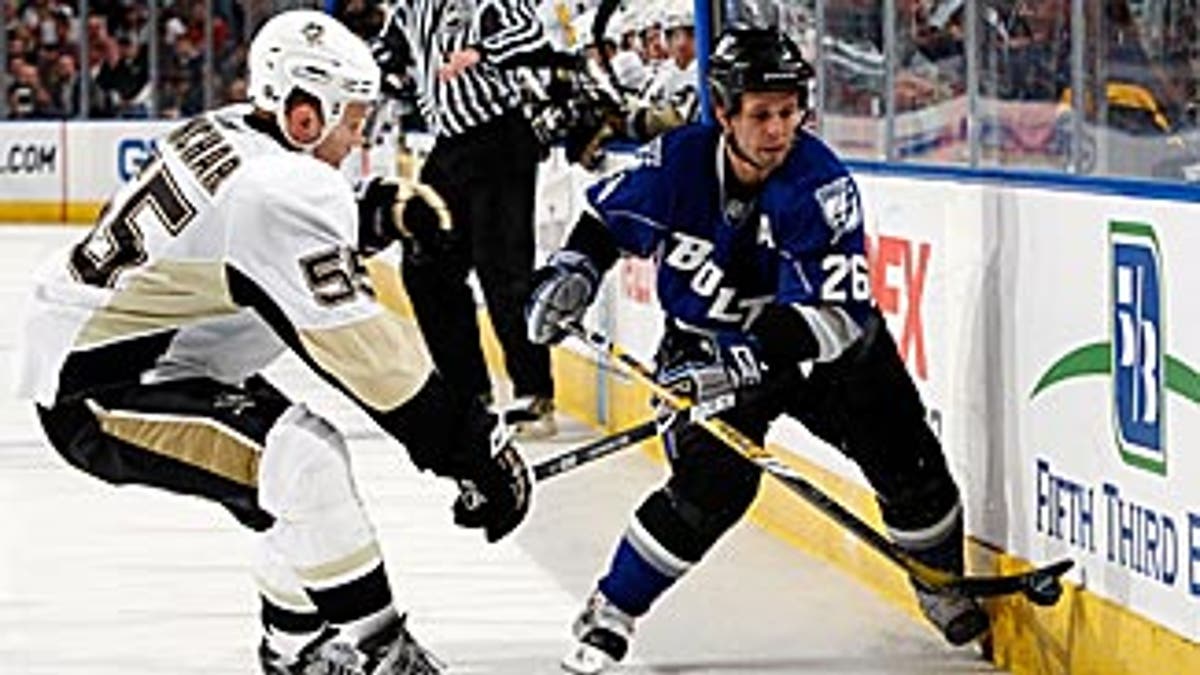 There is plenty to be decided in the final weeks of the NHL season, but there will be a preview of a likely first-round series of the 2011 Stanley Cup Playoffs at St. Pete Times Forum on Thursday night.
The Pittsburgh Penguins, currently in fourth place in the Eastern Conference, are in Tampa Bay to face the fifth-place Lightning.
"We know that we have a good chance of playing each other, so you definitely learn about each other," captain Vinny Lecavalier told Erik Erlendsson of the Tampa Tribune. "It's pretty close to playoff time and I'm sure it's going to be a pretty intense game. But we aren't trying to send any kind of a message. We just want to play hard and play the way we play, and I think the results will come."
Pittsburgh could still catch Philadelphia in the Atlantic Division, but it will be difficult with the Flyers four points in front and holding a game in hand. Tampa Bay's chances of winning the Southeast Division are minimal and the Lightning have a four-point lead on sixth-place Montreal with two games in hand.
The Lightning are five points behind the Penguins but have a game in hand, so a regulation win Thursday could give them hope of claiming the No. 4 seed and home-ice advantage in the first round. Pittsburgh has won two of the three meetings between the teams this season and has had the advantage on Tampa Bay by a 16-6 aggregate score.
The Lightning are expected to welcome back a key member of the team's forward corps and a familiar face for the visiting Penguins. Pittsburgh native and former Penguins wing Ryan Malone has missed 21 straight games and 26 of the past 27 with an abdominal injury, but he should be in the lineup for the Lightning.
"He's a big guy, but being big is one thing. He's also smart," Boucher told the Tampa Tribune. "He's one of those rare guys that's the total package -- toughness, big, smart and he's extremely well-liked by the other players. That's one of the intangibles that he brings. He's very vocal on the bench. He's enthusiastic about being here and being with the team, so he's very contagious."
Sidney Crosby joined the Penguins on this trip and participated in the morning skate, but there remains no timetable for his return. Crosby hasn't played since the last time these two teams met -- an 8-1 victory for Pittsburgh on Jan. 5.
Chris Kunitz had a hat trick in that game, and despite missing a month because of an injury has been one of Pittsburgh's most productive players in Crosby's absence. He has 12 goals and 21 points in his past 24 games despite not having his typical center in Crosby.
While the Penguins remain without superstars Crosby and Evgeni Malkin, Pittsburgh's injury situation has improved of late. The only other guys missing at this point are players who have spent significant time with Wilkes-Barre/Scranton in the AHL -- Eric Tangradi, Dustin Jeffrey and Nick Johnson.
The Lightning had lost 10 of 12 and were in danger of losing their hold on the fifth spot in the East, but back-to-back wins and a slide by Montreal has helped them regain some separation. Tampa Bay has found its offense again, scoring a combined nine goals in wins against Carolina and Ottawa.
Last season Crosby and Tampa Bay's Steven Stamkos shared the Rocket Richard trophy with 51 goals. Stamkos is trying to become a back-to-back winner, but he's now two shy of Anaheim's Corey Perry for the League lead. Stamkos had only three goals in his previous 21 games before collecting an empty-netter Tuesday against Ottawa.