Penguins insist they didn't relax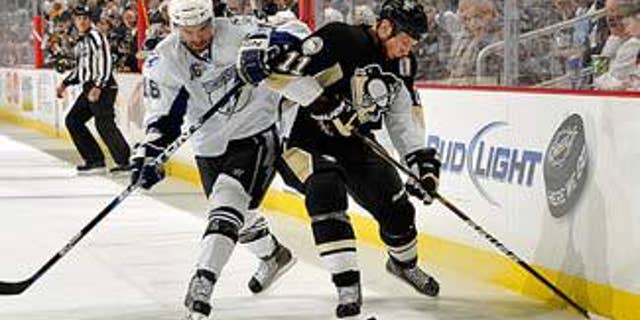 PITTSBURGH -- This had never happened to the Pittsburgh Penguins since the Sidney Crosby era began in 2005. Or since the Mario Lemieux era started in 1984.
They led a playoff series 3-1. And they didn't win it.
It's happened now, largely because -- when they needed it most -- they lacked a scorer who even began to resemble the injured Crosby or long-since-retired Lemieux. Or a power play that resembled an even remotely-effective unit.
All that went well for the Penguins in the first four games of the Eastern Conference Quarterfinal series against the Tampa Bay Lightning failed them as they were outscored 13-4 in the final three games – 1-0 in the decisive Game 7 at Consol Energy Center on Wednesday night.
A season in which the Penguins largely overachieved while playing multiple months without the injured Crosby (concussion) and Evgeni Malkin (knee) ended with them underachieving in a series they had three chances to close out, but couldn't.
"I think we all really thought we had this series but, give them credit, they played well in the last couple of games," a red-eyed Jordan Staal said. "We just didn't quite have that extra something."
Only once previously in nine attempts – the memorable 1975 series in which they led the New York Islanders 3-0 – had the Penguins not won a playoff series after leading 3-1. It was only the fourth time in 41 NHL playoff series since 2006 in which a team rallied to win after being down 3-1.
"Oh, no, no," defenseman Zbynek Michalek said when asked if the Penguins relaxed before a series-shifting 8-2 loss at home in Game 5 -- intentionally or not. "We didn't let up in the playoffs, we knew they're a good team, we knew they're going to battle until the last minute and that's what they did. They came back in the series and they played well. Obviously, when we're up 3-1, we knew we had to close it out, but it didn't happen."
Most of all, it didn't happen because their collection of complementary scorers couldn't regularly beat 41-year-old goalie Dwayne Roloson, who outplayed Stanley Cup winner Marc-Andre Fleury. Their best line for most of the series was their fourth line of Craig Adams, Mike Rupp and Arron Asham, and that's usually not a good sign for any team.
Fleury hardly could be faulted for the loss; Tampa Bay's lone goal, by Sean Bergenheim at 5:41 of the second period, came on a misdirection play in which Dominic Moore carried the puck behind the net, only to throw back to Bergenheim at the opposite side of the net from where Fleury was headed.
"Our goaltender stopped everything he could see," coach Dan Bylsma said. "An absolutely outstanding game for Marc-Andre Fleury. He didn't stop the one he couldn't see, but he certainly came up big for his team."
That's all it took to end a series in which the Penguins appeared to prove they could win without two of the NHL's best players -- only to ultimately prove that, like most teams, it's difficult to replace two world-class players and win a playoff series between two evenly matched teams.
The Penguins were held to four goals in the final three games, and only one in 35 chances on a power play that was ineffective after losing Crosby and became even worse without him.
For weeks, there has been speculation about when Crosby and Malkin would return. Now everyone knows the answer: Next season, just like the rest of the Penguins.
The Penguins, 0-23-1 when trailing after the second period, pressed and pushed for the tying goal during a frantic third period but couldn't do it, even after getting a power play that lasted the final 93 seconds. Pittsburgh outshot Tampa Bay 36-23, including a 14-5 edge in the final period.
Still, Bylsma emphasized all the Penguins did well during a season in which Staal missed the first half, Crosby the second half and Malkin the final two months and the playoffs, yet still finished fourth in the Eastern Conference with 49 wins and 106 points.
"We continued to find ways to be successful given the circumstances … we displayed a work ethic and a passion, to continue to be a good team," Bylsma said. "Certainly we had different scenarios throughout the year."
And the worst possible one for them in a series in which Tampa Bay outscored them 14-3 while winning the final three in Pittsburgh following the Penguins' 3-0 decision in Game 1. The Penguins are 2-6 in Game 7s at home, including a 5-2 conference semifinal loss to Montreal last season.
"We had a lot of injuries during the season and we battled, we had a good season. The playoffs it was just disappointing," Fleury said. "It was a different season. I don't know. When you don't win it, it's just such a loss."