Penguins' Fleury reportedly agrees to waive no-movement clause ahead of Vegas expansion draft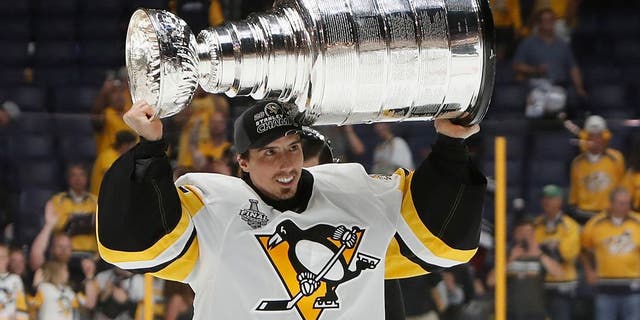 NEWYou can now listen to Fox News articles!
Marc-Andre Fleury raised his third Stanley Cup as a member of the Pittsburgh Penguins on Sunday night. Itcould very well be the last time we see the veteran goaltender on the ice in a Penguins uniform.
On Monday, it was revealed that Fleury accepted the Penguins' requestto waive his no-movement clause for the upcoming Vegas Golden Knights expansion draft, and he did so way back in February.
(Putting in the request months ago saved the Penguins from having to approach their longest-tenured player with an awkward conversation mere hours after winning the Stanley Cup. The deadline for teams to ask a player to waive his no-movement clause 5 PM on Monday.)
Agreeing to waive means that Fleury will be exposed and the Golden Knights will have the opportunity to draft the 32-year-old netminder for their roster later this month.However, it doesn't necessarily guarantee that Fleury will be in a Golden Knights uniform next season.
If he is selected by Vegas, the team could potentially usehim as a trade chip this summer. The Penguins could also still tradeFleury to another team if he approves the destination.
Trade rumors have circledFleury ever since Matt Murray took over the starting job in Pittsburghduring last year's playoffs. There was plenty of speculation that the Penguins would look to dealFleury at this season's trade deadline in exchange for help down the stretch. Ultimately, they decided to hang onto the netminder because, as GM Jim Rutherford put it, they wanted "to have two healthy and fresh goalies going into the playoffs."
That proved to be a very wise decision, as Fleury was instrumental in the first few rounds of the playoffs while filling in for an injured Murray. He wasbelow-average during the regular season in a backup role but had a .924 save percentage in15 postseason games for the Pens prior toMurray's reinstatement.
Charles LeClaire-USA TODAY Sports
At this juncture, asplit between Fleury and Pittsburgh seems inevitable, and it will likely be bittersweet.
Fleury has been a member of the Penguins ever since the team made him the top overall pick back in the 2003 draft. In 691 career games, he has a .912 save percentage with a 2.58 goals against average. He seems to be well-liked in Pittsburgh, especially in the Penguins' locker room. One of his best friends on the team is a guy named Sidney Crosby. You may have heard of him.
But Murray has laid claim to the starting job in Pittsburgh and Fleury istoo expensive to keep as a backup (his current deal has two years remaining at an annual cap hit of$5.75 million). Ifthis postseason was any indication, he can still play at a starter's level soa fresh start could end up being mutually beneficial.
The writing has seemingly been on the wall for a while but at least Fleury delivered quite the final act in Pittsburgh.