Penalty kill comes up big for Canucks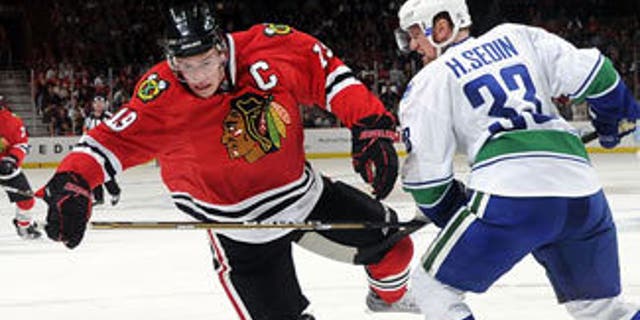 CHICAGO – They were only 77 seconds of a 60-minute game.
In retrospect, they might've been the most important seconds played during a game on Sunday night that put the Vancouver Canucks just one win away from ousting the defending Stanley Cup champion Chicago Blackhawks from the playoffs.
Despite allowing a pair of power-play goals, it was a big penalty kill by Vancouver midway through the first period that helped the Canucks take a commanding 3-0 lead in this Western Conference Quarterfinal with a tight 3-2 win in front of 21,743 at the United Center.
Chicago led 1-0 midway through the first and the crowd was buzzing. All it would've taken was another Blackhawks goal for the cavernous building's walls to start rocking with deafening decibels of sound as Canucks forward Raffi Torres and defenseman Kevin Bieksa did a slow burn in the penalty box for separate roughing and elbowing minors.
It was all set up for the Hawks to take control, but instead it went completely the other way. Canucks goalie Roberto Luongo made three big saves while two skaters short and all the momentum was drained from Chicago.
Did it also provide a lift to the Canucks, who went on to score twice in the second period to take a 2-1 lead?
"Not for me," Luongo deadpanned. "I was dead tired … but yeah, you felt that it was an important moment in the game. If we go down 2-0 there, maybe it's a different game. But we were able to hold them to one and we got two big goals in the second."
Bieksa was obviously relieved while watching from the box, but said the Canucks did get a lift out of such a big penalty kill.
"We were down one and to go down two right away, and for their crowd to get into it, would've been an even bigger deficit." he said. "But we kill a 5-on-3 and there's a huge momentum shift. It allowed us to get back into the game. Things like that are definitely defining."
If the Canucks go on to win the series, which is likely now, Luongo's play during that sequence will be defining. Not only did he stonewall a couple of good chances by Patrick Kane and Jonathan Toews, but he also made the third save against Patrick Sharp – the Hawks' leading goal scorer who also led the team with 12 power-play goals.
"He made some sick saves and that's what he's done all year," said Canucks center Henrik Sedin, who finished with a pair of assists, including one on Mikael Samuelsson's game-winner 6:48 into the third. "I think we feed off it and I think it maybe (lessens opponents') confidence too – so it maybe works both ways."
It certainly did on Sunday night.
It was a busy night for Luongo, even though Chicago was outshot 32-26 overall. The Blackhawks did a good job drawing penalties all game and wound up with seven power plays in all – scoring twice on them.
However, it was the big one that got away from the Hawks in the first – combined with another big Vancouver kill midway through the third to hold the lead – that made the Chicago's 2-for-7 power play night tolerable for the Canucks.
"I don't think you expect to be perfect on the penalty kill," Bieksa said. "You're one man short, so there's going to be somebody open. If a good enough team moves the puck around, they're going to find that guy and they did tonight. They scored a couple, but the next thing you know we rattle off a bunch of kills and we have a bunch of kills at the end. When it counted most, we got the job done."