Pelicans announce 2015-16 broadcast schedule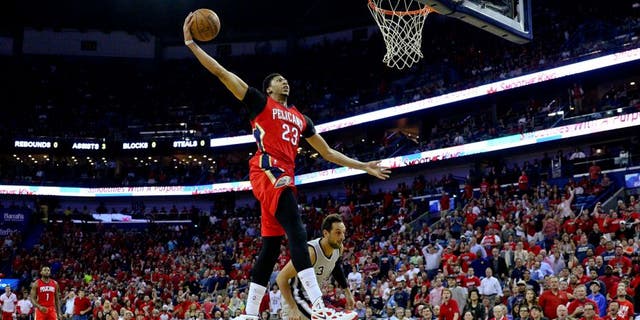 NEWYou can now listen to Fox News articles!
The New Orleans Pelicans announced today the television and radio broadcast schedule for the upcoming 2015-16 season. FOX Sports New Orleans, the official television partner of the Pelicans, will feature 75 live regular season broadcasts. Collectively with 21 nationally televised games, all 82 Pelicans regular season games will be available on television. WRNO 99.5 FM, the new Pelicans radio flagship station, will broadcast every regular season, preseason and playoff matchup.
The seven regular season games not being televised by FOX Sports New Orleans are scheduled to air on national television broadcasts: Oct. 27 at Golden State (TNT), Dec. 25 at Miami (ESPN), Jan. 18 at Memphis (ESPN), Feb. 4 vs. the Los Angeles Lakers (TNT), Feb. 11 at Oklahoma City (TNT), Feb. 25 vs. Oklahoma City (TNT) and Mar. 3 vs. San Antonio (TNT).
FOX Sports New Orleans will begin Pelicans coverage on Wednesday, Oct. 28 as the Pelicans head to Portland to take on the Trail Blazers. The television broadcast schedule features 38 home and 37 away contests, concluding with the final game of the regular season on Wednesday, April 13 in Minnesota against the Timberwolves.
Joel Meyers and David Wesley enter their fourth seasons as play-by-play and color analysts for New Orleans, with Jennifer Hale returning for her fourth consecutive season with the team as the sideline reporter. Meyers, a two-time play-by-play announcer Emmy Winner, brings more than 20 years of broadcast experience to the organization. Wesley, who played 14 seasons in the NBA, joined the broadcast team prior to the 2012-13 season after serving as an assistant coach for the NBA Development League's Texas Legends for two seasons. Hale, an Emmy and Edward R. Murrow award-winning journalist, is now in her fifth season as a sideline reporter for the NFL on FOX and covers the NBA and NFL for FoxSports.com, while also contributing in-depth features to the NFL on FOX Pregame Show and FOX Sports 1.
Pelicans coverage on FOX Sports New Orleans will include Pelicans Live pregame and postgame shows in addition to other Pelicans programming, and will be available statewide on cable and satellite providers. Pelicans Insider will also return to FOX Sports New Orleans for the 2015-16 season. A weekly program, Pelicans Insider features game highlights, player and coach profiles and behind-the-scenes footage.
In addition, all Pelicans games televised on FOX Sports New Orleans will also be streamed live on FOX Sports GO. FOX Sports GO is available to customers of participating pay-TV providers on iOS, Android, Fire tablets and Fire phones, Amazon Fire TV and Fire TV Stick, select Windows devices, and online at FOXSportsGO.com. Fans can download the mobile app for free from the iTunes App Store, Google Play, Amazon App Store and Windows Store.
FOX Sports New Orleans offers a robust lineup of local sports programming, including SEC coaches' shows, and LHSAA football, boys and girls basketball, baseball, and softball. Other regional programming on FOX Sports New Orleans will feature Big 12 and Conference USA collegiate events, Texas Rangers baseball and Dallas Stars hockey. FOX Sports New Orleans will be available to over 1.6 million cable and satellite TV homes throughout the Pelicans territory.
FOX Sports is the nation's leader in offering hometown NBA coverage through FSN, the largest owned-and-operated regional sports network group in the country. FSN serves as the local television home to more than half of all NBA teams, producing more than 1,000 live NBA telecasts per season.
Entering its first year as the Pelicans' flagship radio network, WRNO 99.5 FM will broadcast all 89 of the Pelicans' preseason and regular season contests during the 2015-16 season. In addition to live game broadcasts, WRNO will feature pregame and postgame shows with Pelicans Studio Host Daniel Sallerson.
Sean Kelley returns for his 11th season as the play-by-play announcer for the Pelicans, while John DeShazier begins his fourth season with the Pelicans as color analyst. Victor Howell will be featured as an alternate color analyst for 18 regular season games while DeShazier serves his role as Senior Writer and Digital Media Contributor for the New Orleans Saints.
WRNO 99.5 FM, part of the iHeartMedia Group, will air the Alvin Gentry Show on Thursday nights. The 30-minute show hosted by Sean Kelley will feature extensive interviews with Head Coach Alvin Gentry, Pelicans players and a variety of guests from around the NBA.
Kelley also serves as host of the Black and Blue Report, a podcast devoted to the Pelicans and Saints. New shows are posted Monday-Friday on Pelicans.com, NewOrleansSaints.com, iTunes and both team apps. Additionally, fans can tune into any of the Pelicans' 15 radio affiliates across the Gulf South for exclusive Pelicans basketball coverage.