Pedro Martinez receiving hero's welcome in Dominican Republic later than planned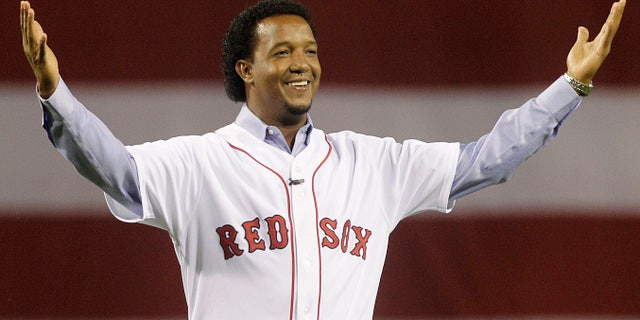 Pedro Martínez will still get a hero's welcome in his native Dominican Republic, just not on the day it was originally planned for.
The former Red Sox ace was originally expected to arrive to the Caribbean island Thursday afternoon, just two days after it was announced that he would become the second Dominican to enter the Baseball Hall of Fame.
Representatives from the Dominican Ministry of Tourism and fans alike were planning on meeting Martínez at the capital's airport where a caravan was to take him to the "Malecón," or boardwalk, in Santo Domingo.
They will have to wait a couple of days.
Late on Wednesday, Martínez's wife, Carolina, tweeted the delay in Spanish. "To clarify, we WILL NOT arrive in the country tomorrow. We will confirm the details of our trip later."
According to the Santo Domingo newspaper, Listín Diario, a local radio station announced that the Martinezes would be arriving on Saturday instead, and that the procession would take place then. The report has not been confirmed.
The caravan celebration was originally expected to go from the Malecón, where Martínez, 43, would address fans, and continue to Manoguayabo, a small sector in the country's capital where he was born and learned how to play baseball.
"Pedro Martínez is a great national symbol," said Francisco Javier García, the country's minister of tourism, in a statement. "He is a great promoter of Dominican tourism because of the feats he has achieved. The Dominican people are celebrating. It was the best holiday present our country has ever received."
The tourism ministry has planned a party with ten orchestras to welcome Martínez, according to a press release.
After Monday's Hall of Fame announcement, Martínez tweeted a message in both English and Spanish dedicating it to his native land.
Martínez, a three-time Cy Young winner, is the second player from the Dominican Republic to be elected to the Hall after pitcher Juan Marichal. He said in a tweet that he is proud to be the second, and hopes that this will open the doors for "the third, fourth, fifth and many more."
Along with Martínez, Randy Johnson, John Smoltz and Craig Biggio were also inducted into the Hall of Fame this week.
Johnson, Martínez and Smoltz earned induction on their first tries, and Biggio made it on the third attempt after falling two votes shy last year.
Martínez, who won a World Series ring in 2004 with the Boston Red Sox, also dedicated the induction to that New England city.
"My highest point in Boston was every game I had. I went out with the same intensity and passion. Each one of my games were a sold out," he tweeted.
Like us on Facebook
Follow us on Twitter & Instagram