Pedro bags brace as Chelsea steamroll Newcastle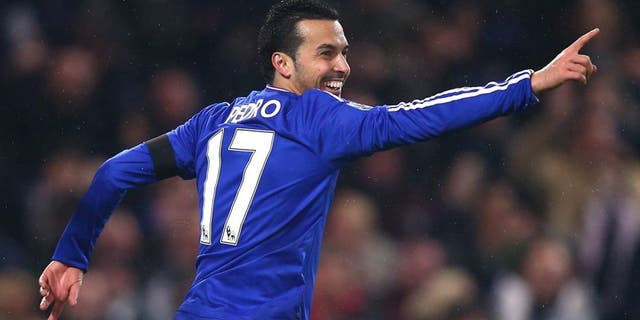 NEWYou can now listen to Fox News articles!
Newcastle slipped back into the drop zone as they capitulated to Chelsea at Stamford Bridge, coughing up three goals in 12 minutes en route to a 5-1 loss.
Diego Costa, Willian and Pedro all struck for the Blues before 20 minutes had run off the clock, each capitalizing on dreadful Newcastle errors that had the away fans heading to the exits with the majority of the game left to play. The result kept Chelsea inching up the table as Guus Hiddink got his first home win as interim manager; Chelsea have not lost a game under his stewardship.
Newcastle had to make a fist of it today as they came into the game knowing that Sunderland had shocked Manchester United, while Norwich had collected a point against West Ham. Instead, they collapsed immediately, with Costa needing barely five minutes to score as Chelsea went from strength to strength. At one point, Newcastle manager Steve McClaren headed down the tunnel and away from the carnage, visibly disgusted with his team's lack of performance.
Costa got on the board with such ease it was comical. Four minutes in, Cheick Tiote utterly botched his assignment on Willian in the middle of the field, allowing the Chelsea player to roll him. A simple ball up to Costa allowing him to turn Steven Taylor and with Rob Elliot helpless, he was able to fire the ball into the back of the net.
Four minutes later, another dreadful Newcastle error allowed Pedro an easy goal. This time it was young Rolando Aarons, played out of position in the back, who coughed up the ball, senselessly sliding a square ball to no one that allowed Pedro to nip on it and charge right at Elliot's net. His sidefooted finish to the far post was technically excellent, but he never should have been conceded such a gift at midfield.
Eight minutes after that, Chelsea buried their third, with Costa playing the provider to Willian. Fabricio Coloccini, who has been abject for the Magpies, retreated from Costa like Milhouse van Houten racing away from Nelson Muntz. Coloccini then helpfully fell on the floor to allow Costa an easy pass left to Willian, who was all alone with only the keeper to beat. You could hear the laughter at the Bridge all the way up to Sunderland.
The only knock on what was a very assured half for Chelsea was an injury to John Terry after a tussle with Aleksandar Mitrovic. The severity of the injury was not known, but it appeared to be a buckled knee. That may open the door for American Matt Miazga to make a run in the team as Kurt Zouma is out for the remainder of the season.
The game was never in doubt, but Pedro added a punctuation mark to the game, scoring in the 59th off some bush league defending. Cesc Fabregas slotted in a long pass from midfield that Taylor leapt to clear -- and missed badly. Pedro, who couldn't believe his luck, trotted right in to slot home.
Sub Bertrand Traore then torched Coloccini in the 83rd minute to slide onto a cross from Cesar Azpilicueta and score Chelsea's fifth.
Andros Townsend denied Thibaut Courtois a clean sheet with a minute to play, slamming home a ball from the top of the box after a defensive mix-up in the Chelsea end. It was a superb solo goal, but given the way the game had progressed, it simply left Townsend shaking his head as he trudged back to the center circle.
Chelsea now two stiffer tests: they play PSG in Paris on Tuesday, and likely must win the Champions League in order to appear in the competition next season. That's followed by a critical FA Cup tie against Manchester City before the Blues get back to business against Southampton. Realistically, on 33 points with just 12 games left to play, Chelsea are going to have to win out and hope to have a chance at cracking the top four. It's not likely to happen this season for the reigning champs.
Newcastle, on the other hand, get a bit of a break, and some time to think about what they've done. Or rather, what they haven't.