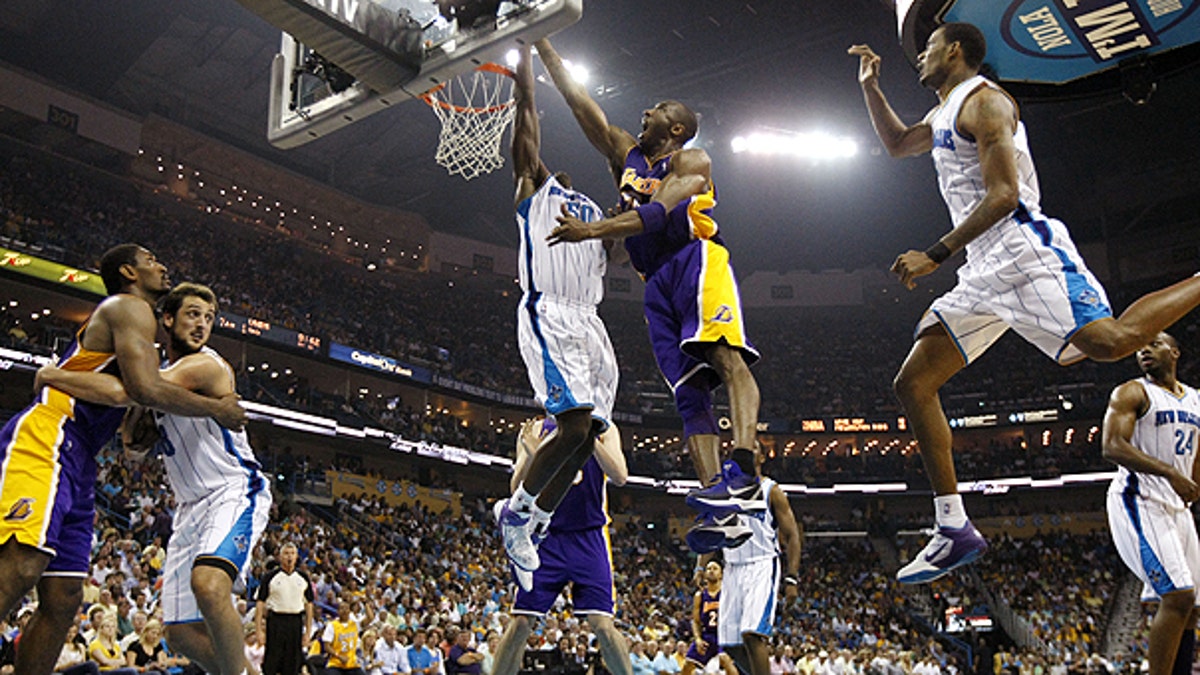 NEW ORLEANS – With his left hand wrapped in a black bandage and cut patched up over his right eye, Chris Paul triumphantly cupped his hand to his ear and soaked in the roars of a packed and delirious New Orleans Arena.
Hornets fans rejoiced in knowing they would get to see Paul and Co. back in the Big Easy at least one more time, thanks to the All-Star guard's first triple double of the season.
Paul had 27 points, 15 assists and 13 rebounds, and the New Orleans Hornets held on for a 93-88 victory over the Los Angeles Lakers on Sunday night to even their first-round playoff series at 2-2.
"Regardless of what happens in this series, it was good to see the city with a smile on their face," said Paul, who hit 7 of 14 shots and all 11 of his free throws. "It was fun, man. I'm just so thankful to get to say this is my way of life."
Paul scored 14 of New Orleans' 24 points in the fourth quarter. He capped what will go down as one of the best playoff performances in Hornets history by driving into a crowd of Lakers and turning an aborted shot into a perfect pass to set Jarrett Jack's short jumper, which made it 90-86 with 9.3 seconds left.
"I was about to take one of the worst shots I'd taken all game," Paul said. "I thank the Lord I saw Jack out of the corner of my eye."
After going scoreless for most of the first half, Paul did it all from midway through the second quarter until the final seconds, even jawing with Lakers star Kobe Bryant a couple times and drawing a technical in one of those instances.
Paul said he wasn't playing mind games. It was just raw intensity — a sort of fuel he was not about to suppress in a game the underdog Hornets had to win to have any realistic chance in this series.
"It's not by design," Paul explained. "That's just who I am. I'm not into playing those get-under-your-skin games. Kobe has seen it all. He's seen guys try to get him ejected and stuff like that. I'm just being me."
By contrast, Bryant did not seem himself. He scored 17 points but was held scoreless in the first half and made only 5 of 18 shots. He also came up lame late in the fourth quarter, favoring his left ankle after a collision with Willie Green.
After soaking his ankle in ice, he said the injury appears worse than a sprain of the same ankle earlier this season.
"It's more on my foot," he said, but added, "it's going to take a lot to stop me from playing. I've played through so many of them that it kind of becomes old habit."
Bryant's last miss came on a 3-point attempt in the final seconds, and Jack snared the rebound to seal the win.
"Well, it's a series now," Lakers coach Phil Jackson said. "We punked out there on the court tonight."
The Hornets' victory ensured the series, which resumes with Game 5 in Los Angeles on Tuesday night, would return to New Orleans for Game 6 on Thursday.
The Hornets might still be a long shot to win twice more, but believe they have a chance as long as they have Paul.
"He's maybe 6 feet and he had 13 rebounds," said Trevor Ariza, who scored 19 for New Orleans. "He played unbelievable. He's made our team go all year. He's carried us when we were down."
In addition to playing strong defense on Bryant, Ariza had 16 of his points in the first half, repeatedly slashing into the paint and once converting a soaring double-pump dunk over Andrew Bynum. His early production prevented the Lakers from pulling away by more than nine. Carl Landry finished with 16 points for the Hornets before fouling out in the final minute.
One of the Hornets' scrappiest performances all season came a day after coach Monty Williams showed the team a popular internet video clip from a safari in South Africa in which buffalo bulls save a calf from an attack by both lions and crocodiles. The message: stick together and never give up.
Green said the Hornets were caught off guard by the video, thinking they were about to analyze video of their mistakes in a Game 3 loss.
"In my mind, that was perfect timing," Green said.
Pau Gasol and Ron Artest each scored 16 for Los Angeles, with all of Artest's points coming in the first half. Bynum added 11 points and Derek Fisher 10.
As far as Bryant was concerned, the Lakers had to accept that they might have trouble containing a star like Paul, but must be resilient enough to win the series.
"He's going to have games like this," Bryant said. "I mean, the majority of the game, he's just a phenomenal player."
The Hornets, who led 49-45 at halftime, never trailed in the second half and opened their lead to as many as nine points, at 57-48, early in the third quarter when Marco Belinelli's 3 capped a 20-3 spurt that had started in the second quarter.
Bryant had been shut out to that point, but that was about to change. He scored the next eight points to cut New Orleans' lead to a point. He wound up with 14 in the quarter, but with Paul driving New Orleans' offense and helping out on the defensive end with a key steal and five rebounds, the Hornets held a 69-67 lead heading into the fourth quarter.
"Chris Paul, that was one of the better performances I've seen in the playoffs," Williams said. "A lot of guys score. He scored. He assisted. He rebounded."
New Orleans opened the fourth with a flourish. After setting up Green's 3, Paul added a tough floater from the baseline as he was fouled and a step-back jumper on the baseline capping a 12-3 run that made it 81-72 with 6:13 left.
Steve Blake turned the momentum with a 3, then Bryant added a pull-up in the lane and a free throw to cut it to 81-78 with 4:24 left.
Bryant had a chance to tie it at 83 with a little over 2 minutes left, but his shot was short and Paul scrambled for the long rebound, drawing a foul on Gasol and hitting crucial free throws to make it 85-80.
The Hornets were narrowly able to hold on after the Lakers had cut it to 88-86 on Gasol's inside basket and Lamar Odom's free throws.
That's when Paul set up Jack's crucial score at the shot clock buzzer, and Jack added three more free throws for the final margin.
Notes: Bryant and Paul were the last starters for each of their teams to score. Paul didn't score until he hit a driving layup with 1:03 left in the second quarter. Bryant, who was 0 for 7 in the first half and missed a technical free throw, finally scored with 9:28 left in the third quarter. ... The last time Bryant went scoreless for a half in a playoff game was May 25, 2004 against Minnesota. Bryant finished with 22 and the Lakers won. ... Bryant hit seven free throws to become the Lakers' all-time leader in playoff free throws made with 1,216, passing Jerry West, who had 1,213.