Paul Pogba's transfer situation is a win-win for both him and Juventus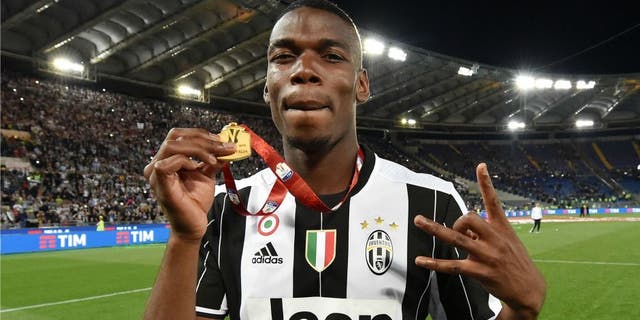 NEWYou can now listen to Fox News articles!
Paul Pogba is going to leave Juventus. Or he is going to stay. Which you believe depends on who you ask, but while the superstar's future is very much in doubt, one thing isn't: both he and Juventus will come away winners regardless.
In Pogba, Juventus have a player who, by all indications, is completely content to stay at a club he loves, under a coach he gets on with famously. Juventus have strengthened immensely, adding Dani Alves, Miralem Pjanic and Mehdi Benatia to an already incredibly formidable side with the goal of winning Champions League in 2016/17, and Pogba would be a key part in that assault on the big-eared trophy.
For Juve, the benefits of keeping Pogba are multiple. They have the best young player in the world, who could be the best actual player in the world, just as soon as he completes his Jedi training. They have a player whose global brand is exploding, is signed to co-sponsor adidas, and who has pure, genuine, star quality. As spectacular as his on-field ability is, his branding value is astronomical, sliding in just behind Stephen Curry as the world's second most marketable athlete according to SportsPro's annual top 50 list.
Juventus also have a player who believes himself capable of true greatness, and for whom the allure of a return home to become a Manchester United legend, or to the Bernabeu to etch his name in the halls of footballing Valhalla, could be too multiple fire emoji to resist. It all comes down to Pogba, with Juventus obviously preferring to keep their star, knowing that they don't need the money or have to sell, but that if Pogba wants to move on that they can put that money to good use and will be just fine.
The Old Lady were in this exact situation 15 years ago with Zinedine Zidane and turned his sale into one of their best teams ever. The Frenchman was coming off his second straight Serie A Foreign Footballer of the Year, was in the argument for the world's best player, and there was no single athlete more coveted. Real Madrid came calling, and Juventus acceded, selling the fiery Frenchman for the equivalent of around €75 million, at the time a new world record.
Real Madrid got a sparkling new trophy for president Florentino Perez to unveil to the rabid Bernabeu, and Juventus got a small fortune which they had already wisely allocated to the signings of Gianluigi Buffon, Pavel Nedved and Lilian Thuram. These three players, all world class in their own right, became the spine of one of Juventus' best ever teams, and Zidane went on to win a Champions League with Real Madrid. It's one of the rare blockbuster win-wins we've ever seen in the game, and we could be seeing a repeat.
Real Madrid are possibly the world's best marketed club, and a player of Pogba's ilk is exactly the type of profile Florentino Perez is magnetically attracted to: An attractive crowd-dazzler with a billion dollar smile. Coincidentally, Zidane is involved aain, this time as Real manager and he surely sees the same magical match-winning quality he had before he suited up and became the boss, and that's clearly the real draw for the new Madrid boss. If Madrid can pony up the cash, or put together an attractive player-cash deal, Juventus may be amenable to reloading once more, and Pogba may be the next star on the Madrid catwalk.
Over in cloudy Manchester, the tea leaves are a bit more murky. Pogba left the club under less than amicable circumstances in 2012, joining Juventus with the assurances of the chance to prove himself according to his ability, not his age. He won four straight titles with Juve, and each year he grew in stature, his existence as Not A Manchester United Player grates the Red Devils fanbase. Now, having achieved everything but the Champions League with Juventus, Pogba could return home not only a hero, but possibly as the world's most expensive signing after leaving on a free transfer.
Jose Mourinho has been batting his eyes at Pogba for months now, and the temptation to join The Special One, King Zlatan and Phil Jones to create a United dynasty while swimming in Scrooge McDuck levels of wealth is undeniable, despite the significant handicap of not participating in Champions League this season.
Pogba doesn't seem to worried, and aside from a few "c'mon Paul, remember what we got over here amigo" words from the Juventus camp, it looks as if both parties are fairly calm about the decision and they should be. In terms of pure, realistic footballing business, both Pogba and Juventus win, no matter if he stays or if he goes. So while Manchester United and Real Madrid sweat it out and see what what Pogba decides, the Frenchman and Juventus are simply taking things in, seeing what options are available and choosing between one great scenario and another.
MORE FROM FOX SOCCER