Patterson and Briles, rulers of their universes, save the bowl season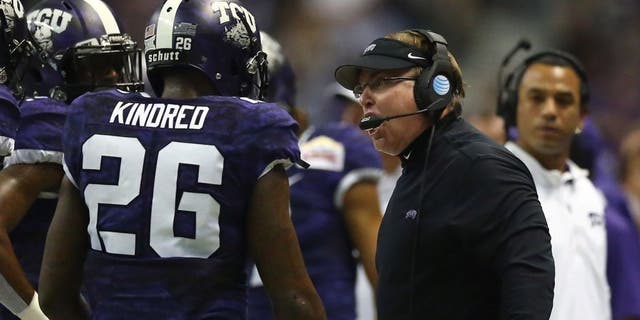 While most everybody entered the New Year lamenting a bowl season more snooze-worthy than a Jeff Long press conference, Baylor's Art Briles and TCU's Gary Patterson saved college football -- and, yeah, the Big 12 too.
The two bitter rivals pulled off masterful and practically unfathomable coaching jobs in their respective bowl games, coaxing their teams to preform at a level no one could have expected or predicted. Earlier in the week, Briles' banged-up Bears, lacking their top three offensive playmakers at each skill position, stomped all over North Carolina in the Russell Athletic Bowl for an all-time bowl rushing record 645 yards.
And on Saturday at the Alamo Bowl, Patterson's Horned Frogs tied the all-time bowl record for a comeback, rallying from a 31-0 halftime deficit to the Oregon Ducks and finally winning in triple overtime, 47-41.
Whew.
The Horned Frogs started off as if the suspension to quarterback Trevone Boykin had soured whatever enthusiasm they had for playing one last football game, and fell behind 31-0.
Sure, TCU got a break when Oregon senior quarterback Vernon Adams Jr., was knocked out and the Ducks' wings were suddenly irreparably clipped. Still, it lends no explanation for how TCU senior walk-on backup quarterback Bram Kohlhausen somehow shook off an awful first half only to return from the locker room wearing a red cape. He played with the heart of a committed career backup in his final college football game, and the guile of a seasoned veteran that even had him looking Boykin-like on scrambles to keep critical drive after critical drive alive.
It reminded of TCU's 30-29 loss at Oklahoma when TCU played without an injured Boykin for the enitirety, and OU's QB Baker Mayfield couldn't return for the second half. A 30-13 Kohlhausen-inspired rally ended when Patterson gambled and failed on a two-point conversion that otherwise would have booted the Sooners out of the College Football Playoff picture. Instead, OU vaulted from No. 7 in the CFP rankings to No. 3.
Patterson, one of the more superstitious fellows you'll meet on any sideline, changed out of the black shirt he wore during that disgusting first half and slipped into a purple number. We'll probably never know what Patterson said to his players while making that wardrobe adjustment, but whatever it was he should bottle it and sell it at every coaches clinic and convention from coast to coast.
Behind Kohlhausen, whose father passed away from cancer less than two months ago, senior running back Aaron Green (101 yards, touchdown) and a host of receivers even the most hardened TCU fans probably couldn't match a name to jersey number -- remember, senior star receiver Josh Doctson was out with a wrist injury -- came all the way back for yet another TCU triumph.
The biggest FBS comeback of the 2015 season increased Patterson's TCU bowl record to 9-5, and that includes wins over Wisconsin in the Rose Bowl, Ole Miss in the Peach Bowl and now Oregon in the Alamo Bowl.
While Patterson not might receive a congratulatory text from Briles after this remarkable victory, the two should share a toast to ruling the Big 12 and saving the bowl season.
The two adversaries shared the league title a year ago, and still no one can explain how TCU went from No. 3 to No. 6 in the final CFP rankings, but that's ancient history now. Catastrophic injuries kept both from repeating this year and allowed traditional power Oklahoma to become the first Big 12 team to make the CFP final four. It didn't last long. Mayfield and the Sooners proved no match for the No. 1 Clemson Tigers.
We'll never know how a healthy Baylor or TCU team would have fared, but recall that the Horned Frogs were favored to get there at the beginning of the season, and by midseason so were the Bears.
As the bowl season comes to a close, the Big 12 can thank its lucky stars it has TCU and Baylor, Patterson and Briles. OU is gone. Texas didn't even make it to a bowl. Oklahoma State was crushed in the Sugar Bowl. And Kansas State and Texas Tech were no match for their SEC bowl foes.
Yet with backup quarterbacks and other star players sidelined, Patterson and Briles each managed an incredible, jaw-dropping way to bring home the hardware. We should probably be getting used to it.
Patterson and Briles. TCU and Baylor. Rulers of their universes.